okay...
so this had to've been the second or third year i'd come down to heroescon. mike invited me down in 96, i think, and it soon became tradition for me to fly down to his house in raleigh/durham and hang out for a few days and then drive over to charlotte thursday night or early friday morning. we were doing sensational spider-man at the time and it was cool to also get to hang with the third member of our trio, rich case, and the other guys in the artamus studio; chuck wojtkiewicz, jeff parker, scott hampton, dave johnson.
when we got to the show, shelton had put us at a table next to bill sienkiewicz, whose art i had always marveled at/been floored by/adored. mike had to cool me down i was so fanboy, i couldn't wait to get a chance to chat him up and tell him how much i dug his work.
but bill is a rather shy guy, kinda quiet, and HIS LINE was around the world!! he was always busy, always drawing, always (quietly) chatting with fans as he did his crazy magic in their sketchbooks or on a page. we had just enough time to say, hey, good morning, where'd ya go for dinner, and i'm going to get a soda, do you want anything?, and that was about it. very nice guy.
i wanted a sketch desperately and so on sunday morning stepped out from behind the table and got on-line when it wasn't too long yet. i waited for a little while until bill noticed that i was signing comics in his line and looked to make sure that i was the same guy who had been sitting next to him until just recently. he made me sit down and told me he'd save time later to make sure i got something, which was really nice of him. a little while later, he pulled his chair back and removed himself from the tables, asked me what i wanted and did this freakin' awesome joker as i sat and watched and tried not to get any drool on him. i also told him that i loved his miniseries
stray toasters
and so there's a little one down there in the corner. awesome!
very nice guy. quiet.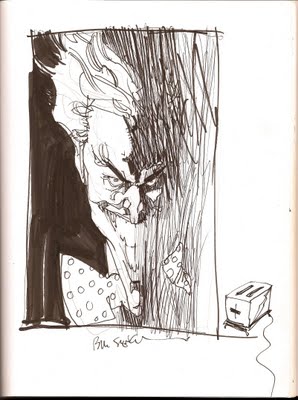 and in the heat of the infamous clone saga, artist steve skroce was hired on to illustrate tom defalco's thrilling stories over in
amazing
. we met a few times at a marvel conference or two and he was nice enough to draw up this moody/cool spidey in my sketchbook--before leaving us to go do storyboards for the matrix movies!! i'm not sure what steve is working on these days, but i always loved his darker layouts and shadow-hugging spider-man...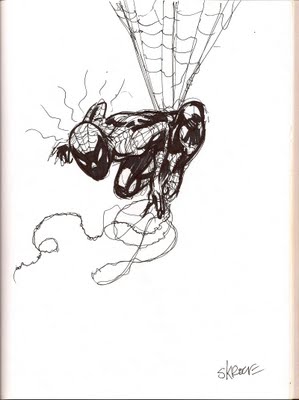 ~~~~~~~~~~~~~~~~~~~~~~~~~~~~~~~~
cold here.
not this cold, but...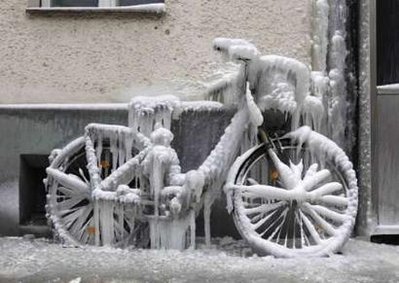 also, these are rich woodall's underpants--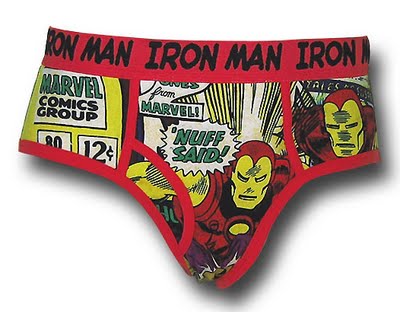 have a great weekend!
smell ya later~!
todd