okay...
i love this...
Nigeria: Goat charged with robbery
Posted on Saturday 24 January 2009 - 08:10
Murtala Mohamed Kamara, AfricaNews reporter in Freetown, Sierra Leone
Police in Kwara State of Southern Nigeria paraded a goat suspected of taking part in a robbery incident on Wednesday. The Police Public Relations Officer, Tunde Mohammed, said the goat is being held in custody because it was a suspected human robber that transformed itself into it to escape arrest.
Mohammed said the mysterious goat is an armed robber who unsuccessfully made attempts to steal a Mazda car and later transformed himself into a goat in his bid to escape arrest.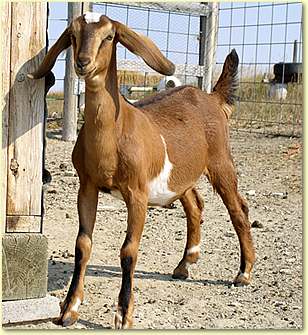 He said the armed robber was arrested by members of a vigilante group in Anifowose Ipata/Oloje while they were chasing two other armed robbers. "While one of them escaped, the other was about to be apprehended by the team when he turned his back on the wall and turned to this goat. They quickly grabbed the goat and here it is," the Nigerian Vanguard Newspaper quoted Mohammed.
Mohammed assured that the suspected "goat robber" will not be released until they conclude their investigations.
In most parts of Nigeria young men form vigilante groups to protect their people, lives and properties in their communities. Most people believed that these men possess supernatural powers to arrest criminals and reduce crime rate. They are widely recognized by state authorities while others prefer them to the Nigerian Police force.
is it wrong to say that this is the world i want to live in...?
~~~~~~~~~~~~~~~~~~~~~~~~~~~~~~~~
for those who didn't see this one over on the perhapanauts forums, by our pal, nic (portalcomics)...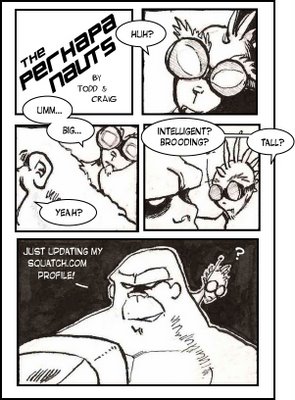 funny, nic! : )
great job!
~~~~~~~~~~~~~~~~~~~~~~~~~~~~~~~~
my friend, heather, sent me this frog test.
can ya do it?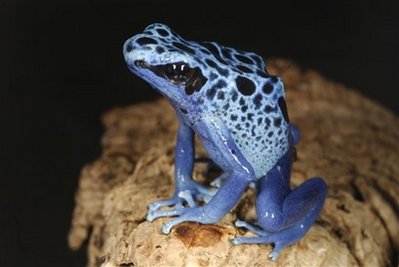 http://funstufftosee.com/frogleaptest.html
Frog Leap Test
~~~~~~~~~~~~~~~~~~~~~~~~~~~~~~~~
and here are
the answers
to your first
"twofer tuesday!"
1. name the comic that...
a. teamed batman with other dc heroes
brave and the bold
b. teamed the thing with other marvel characters
marvel two-in-one
c. teamed superman with other dc characters
dc presents
*
d. teamed spider-man with other marvel heroes
marvel team-up
e. teamed superman with batman
world's finest
2.
match the actor with the movies
a. trading places, k-9, red heat
jim belushi
b. philadelphia, parenthood, max dugan returns
jason robards
c. fried green tomatoes, some kind of wonderful, bennie & joon
mary stuart masterson
d. pushing tin, the bone collector, sky captain and the world of tomorrow
angelina jolie
e. l.a. confidential, the quick and the dead, the insider
russell crowe
~~~~~~~~~~~~~~~~~~~~~~~~~~~~~~~
* note: although...it should be noted--and mostly 'cause i really want to post these awesome neal adams covers from the early 70's--that there was a time, on the heels of the huge spike in sales on brave and the bold when it became a strictly batman tea-up book, that dc tried to do the same with world's finest, pairing supes with flash, green lantern, the teen titans...this lasted for about two years, but reverted to the bats/supes team-ups when wf's sales didn't follow suit.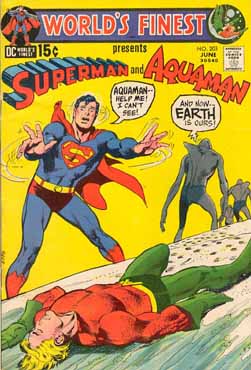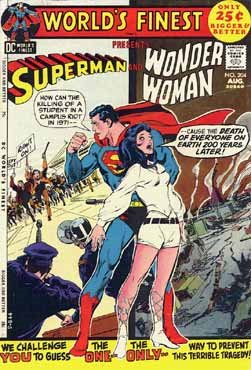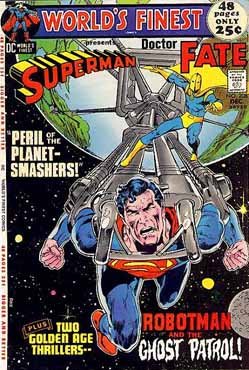 that's it!
i gotta go direct a play!
have a great weekend!
smell ya later!
todd