okay...
well, HAPPY HALLOWEEN, EVERYBODY!!!
hope you al have a tremendously fun and spooky day!
and night--!
our final entry for the perhapanauts scary halloween contest comes to us from my pal, matt belskis, who we will be seeing tomorrow at the show...! you ARE all coming to the albany comic con tomorrow, right...?!
matt's been kind enough to share his talents with us before and this time, i think, has outdone himself!
here is...
matt belskis' "haps zombies"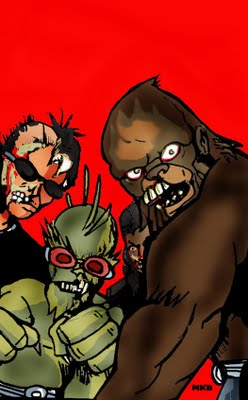 ~~~~~~~~~~~~~~~~~~~~~~~~~~~~~~~~
with the contest and halloween and everything else going on around here, i've been trying my darnedest to spotlight everything and everyone who has just gone above and beyond for us here in the perhapa-studios! if you got a copy of the perhapanauts halloween spooktacular--and if you haven't hey! what the hell...!--you got a chance to see the beautiful cover done for us by our australian pal, matt pott. i saw matt's wonderful work, wow!, almost two years ago now, on myspace and wrote to tell him how much i dug it! we chatted a bit and he was kind enough to offer to do a cover for us and, although we had crazy problems on this end getting that book together, it finally came out a fews weeks ago.
i wanted to thank matt again, for his fun and charming cover, and for being so patient waiting for it to finally come out!
oh, and also for this awesome choopie halloween piece!
looks like a fun halloween!
thanks, matt!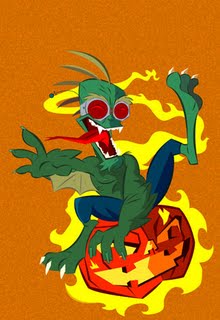 you can check out more of matt's stuff at:
www.mattpott.com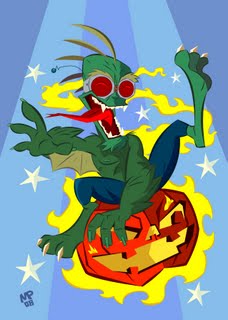 ~~~~~~~~~~~~~~~~~~~~~~~~~~~~~~~~~
and now finally, some more halloween pics to make your day spookier...!
for the others i did image searches on google under phrases like "scary halloween", "creepy halloween", halloween horror", "halloween terror", and for those girls for brian and matt, "sexy halloween". ; )
feeling a bit nostalgiac last night, i typed in "vintage halloween"...and that opened up a whole new door, some of iot interesting, some of it creepy.
check these out...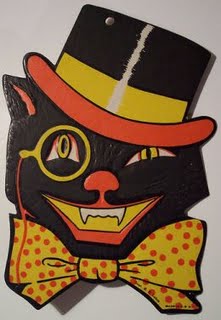 my mom--or maybe my grandmother--had this decoration that would go up on our front door every year when i was a kid. not scary--that cat looks like he wants a martini~~!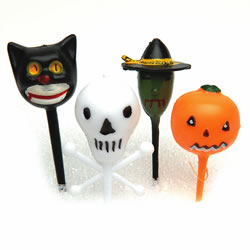 every year, my mom would buy a box of orange frosted cupcakes--from, i don't know, maybe entenmann's or freihofers--adorned with a few pieces of candy corn and topped with one of these plastic picks. does anyone else remember these...?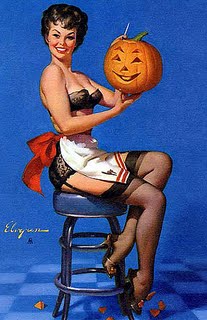 next year everybody carves their pumpkins in their underwear! i don't know why, i just heard they come out better that way...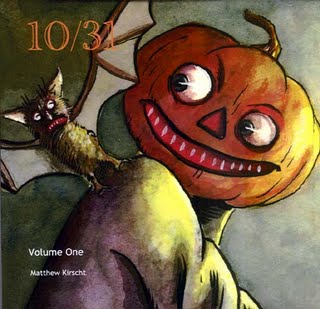 boo!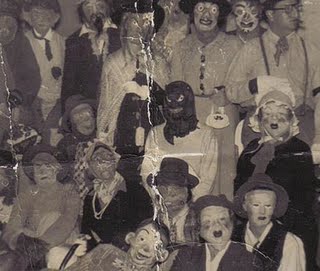 the people in old pictures can sometimes look kinda creepy, right? but this one...holy crap!
really, enlarge this one, but don't look too long, else you'll fall in and we'll never hear from you again!
remember the photo at the end of
the shining
...?
have a wonderfully, frightful halloween!
smell ya later!
todd