okay...
suzanne sent these over the other day...just seconds before her hubby, matt sent them over too!
ha! dude--she beat ya to it! i guess working for the same company and getting the same emails makes it hard sometimes...
squeeze loves the doom! one best. i dig batman!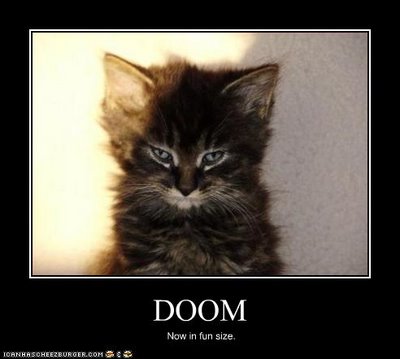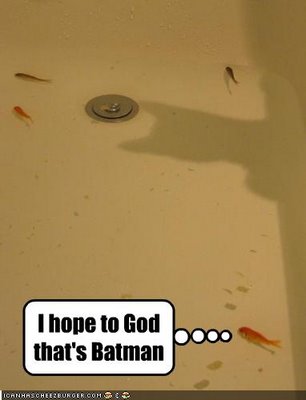 ~~~~~~~~~~~~~~~~~~~~~~~~~~~~~~~
for those of you who didn't see, jason copland posted a comment to the other day's post and included a link to his own blog to show off his celebratory
big
sketch--celebrating what you might ask...? why the announcement that perhapanauts no.6 is on its way and that he'll be getting his a week early at heroescon in charlotte!! woo hoo!
so go check out jason's sketch--and the rests of his blog--over at;
http://www.jasoncopland.com/
thanks, jason!
~~~~~~~~~~~~~~~~~~~~~~~~~~~~~~~
for those of you who don't know who wally wood was, well...he's one of the legends in comic book and comic strip art. known mostly for his work on the old ec comics horror line--t
ales from the crypt, from the vault, weird science
, etc.--and for being one of the original mad artists under harvey kurtzman, wally wood was also around during the silver age at marvel comics and did a bunch of work at dc as well. for me, his work on
the spirit in outer space
with will eisner stands out in that it was one of the first times i really noticed how an artists style could actually define an entire story.
wally wood was the consummate comics artist and, apparently, had a reputation for getting things done.
as legend has it, sometime in the late 70's or early 80's, wally, outlining an exercise for his young assistant, larry hama (who went on to become a writer and editor at marvel for years. hey, larry!), wally drew up this now classic and much sought after card featuring...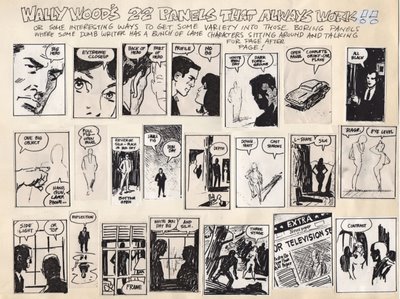 it is, without a doubt, something that every earnest and aspiring comic book artist should have on his/her wall.
(i had seen this years before, but came by it again the other day while reading through modern masters: kyle baker as kyle and eric nolen-weathington talked about it in their interview/conversation--which, by the way, eric did an amazing job on and you should go pick it up!)
~~~~~~~~~~~~~~~~~~~~~~~~~~~~~~~~~
and now, some
trivial trivia...
"five for friday!"
villains!
here are their real names--
by what name are they infamous...?
1. anakin skywalker
2. norton g. fester
3. johann shmidt
4. arnold wexler
5. dennis rader
have a great weekend!
smell ya later!
todd