okay...
here's a little more con coverage from this past weekend's BALTIMORE COMICCON!
as i said, i was honored to be given the privilege of presenting nick cardy with his lifetime achievement award at the harvey awards on saturday night. nick received two standing ovations and was a bit overwhelmed by the outpouring of respect and appreciation. good! that'll teach 'im!
nick with his harvey's/hero initiative lifetime achievement award...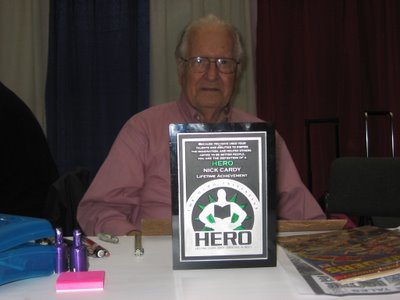 (you
could
smile, nick...)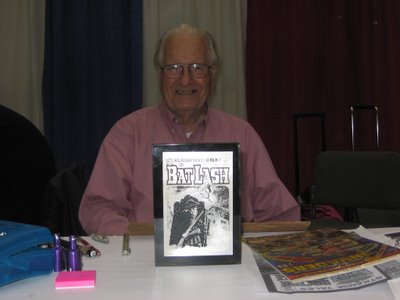 that's better.
close-up of the back of the award--one of nick's most famous--and favorite--covers,
bat lash
#2!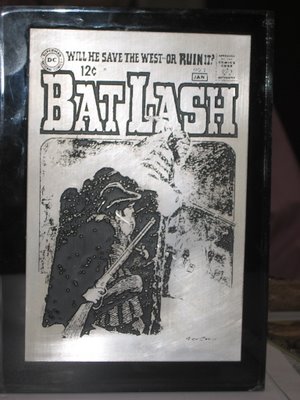 ~~~~~~~~~~~~~~~~~~~~~~~~~~~~~~~~
our pal, bob almond, sent over this brief and succinct review--
http://www.comixtreme.com/forums/showthread.php?t=43770
Perhapanauts #4 (Image Comics)
By Todd Dezago, Craig Rousseau & Jason Armstrong
The Perhaps return home to Bedlam to find the base under an emergency evacutation in light of the recent invasion. But the people pulling the strings may not exactly have the project's best interesting at heart. Choopie has to deal with his Gremlin subjects, and Peter's emotions come back to haunt him. The bizarre stuff keeps coming with this book -- it's weird, it's crazy, and it's so much fun that it rises to the top of the read pile every week it comes out. Dezago and Rosseau have shaped a really weird world with really interesting, believable characters. If you haven't read this book yet, you're missing out on something exceptionally cool.
Rating: 4.5/5 --Blake M. Petit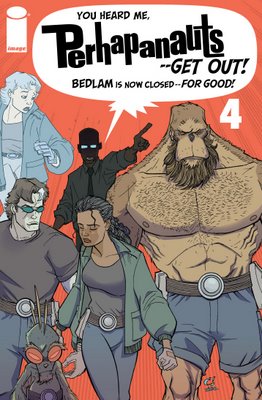 ~~~~~~~~~~~~~~~~~~~~~~~~~~~~~~~
while at the show, we got to hang out and catch up with a lot of our friends from here on the blog.
we saw rod and leanne hannah--leanne having just finished up the six-page perhapanauts back-up story she's doing with scott--and she and craig traded sketches of karl (leanne's fav and you'll see more of him by her later... : ) !
brian and our pal, mike estelle, filled in at the table when craig and/or i were needed elsewhere--and mike gave me this super awesome jersey devil t! thanks, man!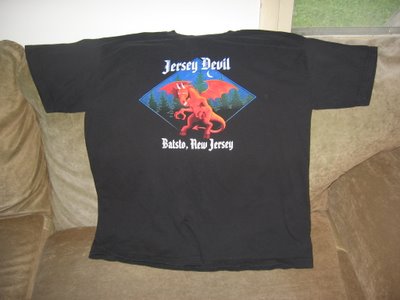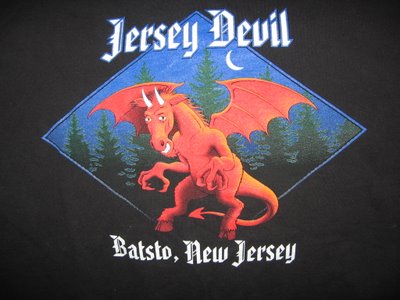 we met peter and dawn smith (as well as their girls, jada and molly) who will be hosting the all-new SCREAMING TIKI CON in ohio in just a couple weeks ! if, for some crazy reason, you missed out on all the fun at the baltimore commiccon, make sure to come and see us at our final show of 2K8, the SCREAMING TIKI CON in niles, ohio, october 17th thru 19th!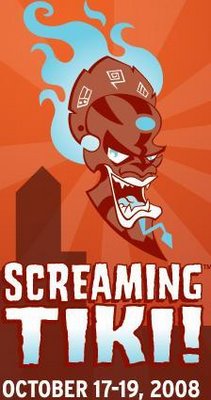 adam hutch was there and got sketches from both craig ...and me! always great to see ya, adam!
i saw bill nolan and his lovely wife, jen, briefly--he and brian always seem to be running off on some kinda crazy mission...
and joe and amy hedges--on their HONEYMOON, no less!!!--stopped by for a little while to chat and touch base! congratulations, you two! all the best!
and that's it, i'm out!
gotta go to the dentist and buy a couple birthday presents...
oh, yeah...and letter up some perhapanauts pages...!
smell ya later!
todd