okay...
well, between working on the play and getting real work done during the day, i have had little time for adventures and so, not a lot to report...
it's been pretty bitter cold up in these parts the past few days. snow on saturday night and all day sunday was followed by high winds that whistle through you and make you even colder. poor jake is so small that, if not for the leash, he would be blown away. at the moment, walking him now is more like flying a kite.
(of course, we usually don't use a leash anymore. his days of bolting off after something and not listening when i call are way behind us. we take leisurely walks now, like old men, talking about the weather and friends and the stories that i'm working on.)
~~~~~~~~~~~~~~~~~~~~~~~~~~~~~~~~
i used to watch the oscars with eager curiosity and anticipation. an actor myself, it's an important night, to see which performances were being acknowledged, which actors were being celebrated for their fine work. i would consider all of those people in the auditorium as "my people," and take into consideration who raised the bar a little higher and what that meant for all of us.
okay, also, all that glitz. all that glamour. i would imagine myself a star. an actor of some note. a potential nominee. no, a nominee.
...and then, of course, a winner.
i would watch and imagine my name called. i would have a speech prepared and would thank God and my parents, my theater teachers and mentors, my family, my friends. i would be clever, witty, sincere. i'd try not to cry.
i would do this for every category.
what an emotional night.
not just in my imagination, but there in my living room, just watching. it was just exhausting.
that's back when i had friends who were also into theater. or film. or semi- into it. now, i don't really have anyone close by who follows the oscar nominated films like we used to, no one to share that excitement and passion for movies and storytelling and the achievement of an actor or screenwriter or director. sharon's not really into any of that and so i dvr'd the show. i've only had a chance to watch the first 20 minutes or so and saw hugh jackman's musical number and the presentation for best supporting actress. that was very nice. and although i didn't get a chance to see vicki christina barcelona, i'm sure that penelope cruz did a fantastic job. she always does. and her acceptance speech was very nice.
mine was better.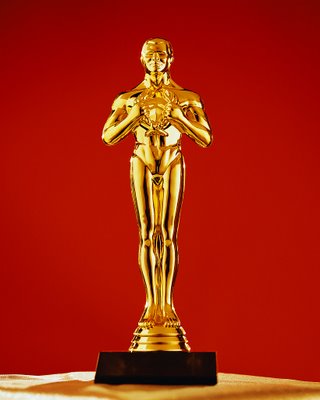 ~~~~~~~~~~~~~~~~~~~~~~~~~~~~~~~~
i've been loving the new season of flight of the conchords. i won't say anything about them 'cause craig hasn't had a chance to see them yet, but the new season is wonderful! and, especially, the new songs. i cannot stop humming "carol brown" which was featured on last week's show. funny, funny song.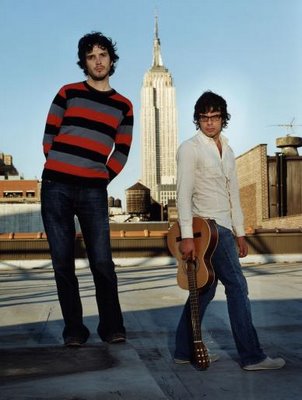 i've also been stuck in a sentimental time warp on itunes, downloading many of the old bob hope radio programs to listen to in my car on the way down to play rehearsal. though dated--and, for me, that's part of the fun--these shows were pretty funny and, as i listen to bob throughout the years, it is so easy to see why he was, for so long, america's favorite entertainer. his smooth delivery and self-effacing humor just made him so easy to listen to, so comfortable to "hang with," and his dedication to entertaining and supporting our fighting men and women both overseas and right here at home goes far beyond generous.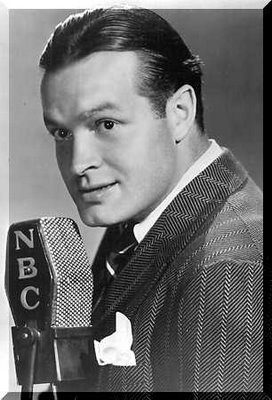 also, bob hosted the oscars 18 times!
and here are the
answers to the
"three for thursday"
products!
what product is known as/by:
1. "the quicker picker upper"
bounty paper towels
2. "curiously strong mints"
altoids
3. "have it your way"
burger king
4. "are you in good hands?"
allstate insurance
5. "finger lickin' good"
kentucky fried chicken
6. "the world's greatest comic magazine!"
fantastic four
7. "when you care enough to send the very best"
hallmark cards
8. "sometimes you feel like a nut, sometimes you don't"
peter paul almond joy and mounds
9. "driver's wanted."
volkswagon
10. "good to the last drop"
maxwell house
got rehearsal!
smell ya later!
todd