okay...
see, THIS is what makes it all worth it...
not that i'm ever really fishing for replies to any of the craziness i tend to post here, but i got this really great note from my facebook pal, max traver, in response to some of the things i talked about with pete in that newsarama interview i posted here last week.
Todd,
Just saw you getting interviewed about the 'nauts, and you made a comment that you and Craig have yet to make a dime on the book. That is so wrong!
Most of us non-published folks still kind of assume that if you get a book put out by Image (etc), that the money just rolls in :)
Anyway, the Perhapanauts is still a favorite of mine, and if you have to put out a black and white napkin version, let me know what address I can send my subscription card to, eh?
Oh, and your Marvel Adventures work has been great, too. Fun stuff, no denying it.
-Max
as i said, max--thanks so much! stuff like that makes craig and i even more excited--and more dedicated--to getting more 'haps out! that was really nice of ya! thanks!
and as if that weren't enough to brighten the day, i got this one from our pal, adam hutchinson, that afternoon...
Todd,
I just wanted to drop you a line to tell you a quick story. I was home alone with my two year daughter last weekend. As I was making her lunch she got into a stack of comics and pulled out the first Perhapanauts trade. She brought it over to me and asked me what it was. I told it was a book and we started flipping through it; with her asking me who different characters were. I sat her down and gave her lunch, and afterwards she grabbed the trade again and asked, "Show me Chooptee!" So I had to go through the book and point out all of Choopie's appearances. She's asked me, "Where Chooptee?" a couple times since then too. So you've got the toddler demo all locked up. ;)
I hope you feel better.
Sincerely,
Adam Hutchinson
so, now that we've got the next generation ready for perhapamania, it's just a matter of time, right...?
thanks, adam~! we'll hafta hook her up with a chooptee button or something...
~~~~~~~~~~~~~~~~~~~~~~~~~~~~~~~~
as i sit here thinking about how really tough this industry is--and how very hard it is for a small book to get noticed--my indignation spreads out, not only amongst the other really great books out there that deserve more attention and support, but a tv show that sharon and i have been watching--and enjoying--since last fall that, as far as i can tell, is getting no respect and no support at all!
i don't watch a lot of shows on the cw and so i'm not really sure what we were watching when sharon and i tipped to "legend of the seeker" totally by accident one night last fall. a short commercial announcing this sam raimi produced series based on terry goodkind's "sword of truth" novels was all the warning we had, but we made it a point to look it up on the "guide" and set the dvr to catch it...
only it wasn't on the guide.
so we set the dvr for the appropriate time (and hoped that the guide was wrong and that we weren't going to get american idol redux as the guide listed > shudder < ) and were pleasantly surprised by the exciting, adventurous, and just plain fun premiere of what promised to be a solid new sword and sorcery series! the story was solid, the casting was great--newcomers craig horner and bridget regan are both talented actors, obviously having fun (and she's just beautiful), and bruce spence (the whack-job gyro man from the road warrior) pushes at the edges of cliche as the wizard zed--and the scenery is that new zealand fantastic that we all got a look at on xena, hercules, and the lord of the ring tril.
we've been watching each episode and enjoying it for the fun and adventure, the good verses evil, every saturday night at 8 pm on the cw...only...
let me know if it';s listed on your "guide." it's not listed on mine.
every week, for the past five months, we've had to program the dvr for that time slot because the show itself isn't listed on the guide. now how, i ask you, is a show going to get ANY kind of viewership, ANY kind of support, ANY kind of oh-so-freakin'-important ratings if the network can't even get it in the freakin' listings?!?!? sure, it's syndicated, i get that--but COME ON!!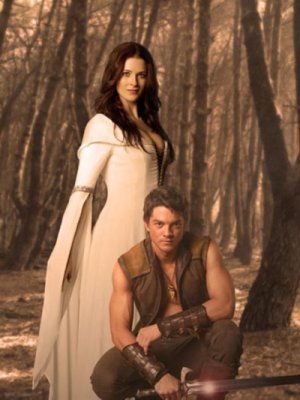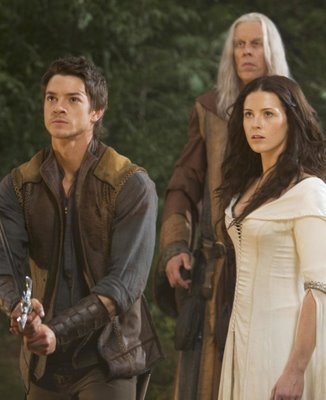 anyway, check the show out.
it's well done. it's on saturday.
it's a shame.
that's my rant for today. i'm done.
smell ya later!
todd