okay...
so, rich woodall sent me this cool hulk watercolor that he did and i loved it so much i made it my desktop. there's something about that original raging, rampaging hulk that is immutable, that is the direct link from marvel's silver age superhero resurgence to the morass of monster comics that lead right up to it. it seems now that all those great monsters created by stan and jack and steve and so many other fantastic artists were really just marking time, filling space like harbingers of the wonderment that was to come!
the hulk was the one that made it through, a terrorizing, terrifying green machine of destruction! an atomic-age monster that would stay with us as a reminder of what came before...
hulk smash!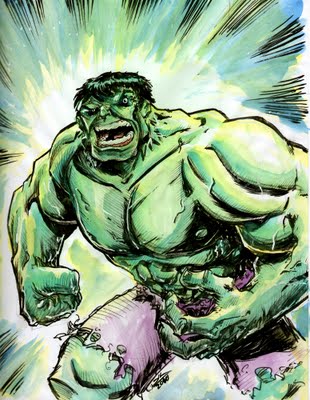 so this put me in the mind of monsters and marvel and comics in general and the crazy pre-code days and i remembered a cover i'd seen in the
marvel vault
that i picked up and barely read a year or so ago.
it was this cover from astonishing tales no.30--and, while i am a staunch opponent of censorship and, as a true comics fan, still bristle at the mere mention of the man's name...looking at this masterpiece, i can kinda see where wertham was coming from.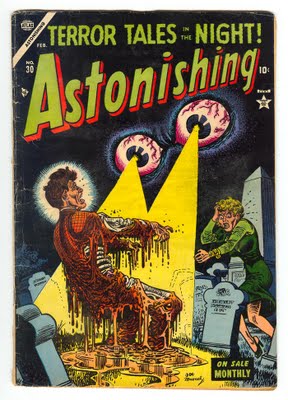 i mean, look at it--it has so many wonderfully horrific images slapped onto one beautiful cover!
disembodied eyes in the sky, always watching you--chilling!
disintegrating death-rays shooting out from said disembodied eyes--terrifying!
watching your flesh and bones turn to red, bubbling goo before
your
eyes--gruesome!
being helpless as you watch this happen to your loved one, your boyfriend, girlfriend, husband, wife--soul-wrenching!
but to me, one of the most unsettling things about this cover, is the look on the woman's face! i mean, i
GUESS
that's supposed to be a woman...i've seen some rather mannish-looking women before, but...yow! really...? that's a dame? yeeks! not to be cruel or anything, but, y'know, if that's the face you gotta kiss goodnight everynight...well...maybe gettin' liquified by a pair of floating peepers in the sky isn't so bad...
i'm just sayin'...
oh, and conveniently, they're in a cemetery.
and rolling around the internet, google-searching for monsters, brought up this awesome image for the
war of the monsters
video game from a few years back! i never played the game, but remember seeing the artwork from it and loving it! lots of retro-movie poster images of monsters and flying saucers from the 1950s! which i dig.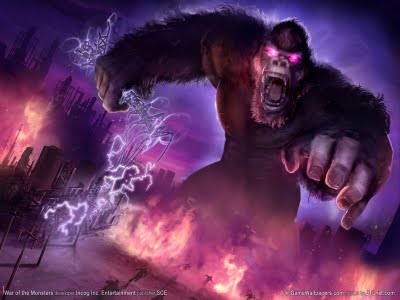 here are a couple other cool images i found...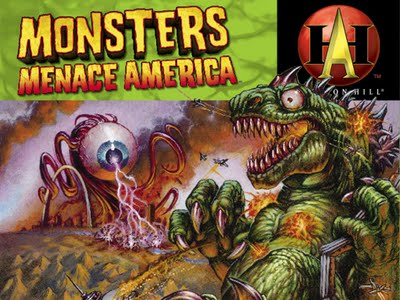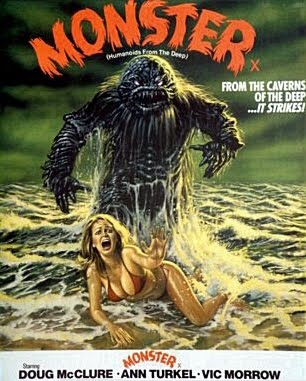 happy monday!
smell ya later!
todd
this is post no. 696.