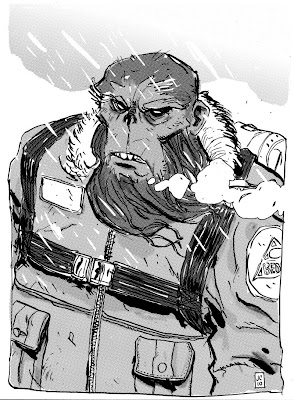 jason's big

okay...

as i said last week, the posts for this week were all done last week and post-dated as i am currently down in florida visiting with our old pal, nick cardy! i have opened up the comments so that they'll be posted immediately without review and am hoping that that spammer that was bothering us a few months back doesn't start coming around again. i hate that.

today the spotlight is on our pal, our incredible perhapanauts artist to the north, jason copland!
just to say hi the other day, jason tipped this beautiful shot of big in my email and i can't stop looking at it! i love it when an artist gives you a snapshot of a character and in it implies some marvelous fantastical adventure that we just happened to catch our hero in the middle of. jason does this all the time and it's the reason we love having him as part of the perhapanauts family!


i actually have a whole bunch of other perhapanauts pages that jason did that i'm just DYING to show you--but they are under tight lock and key until later this fall when we present the first in our webcomic series, "tales from the perhaps!" the first story is by jason and our other pal, rich woodall, and i can't wait for you all to see it...

in the meantime, head on over to jason's blog, "no quarter"--check it out--beautiful stuff, jason! thanks, man!

http://jasoncopland.com/



gotta run (probably)~
smell ya later~!
todd