okay...
cell phone
i was working a few years ago with a guy who went through, like, five of them in four months. he just had no luck with them. our favorite was when he got the fourth one, left it on the bumper of his truck and headed down the long dirt driveway with it. we could see it just bouncing there, but it didn't fall off. we whistled and yelled and waved our arms, and somehow he heard us and stopped.
that's when the phone fell off the bumper.
and then he proceeded to back back up the driveway to see what we were yelling about.
we started yelling, "no! no! no–"
crunch.
pulverized.
we laughed so hard, we cried.
~~~~~~~~~~~~~~~~~~~~~~~~~~~~~~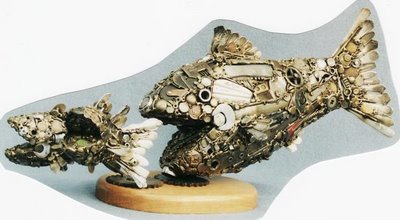 just a sample of the artwork of joe pogan, a myspace friend whose sculptures just amaze me.
check out more of his stuff at www.joepogan.com
smell ya later!
todd