okay...
as promised, our pal, mike estelle came through and provided me with not just a segment for the blog, but the entire thing! here, he has accepted my challenge of several weeks back for folks to write in with their own takes on craig's classic pin-up, "zombie circus." and below that, mike also sent in a topic for both contemplation and discussion.
thanks for givin' me a day off mike!
and here he is...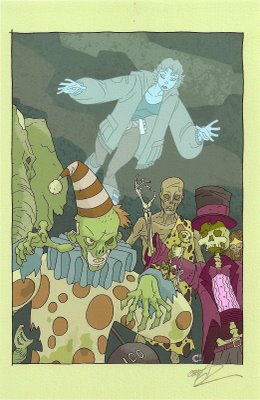 …and she felt bad for refusing the offer.
While still being new to the recently deceased way of life Molly couldn't make heads nor tails of how they could possibly be a good influence for her. The way the Ringleader pushed his case and tried to persuade her into becoming one of them made her ectoplasmic form crawl. Creepy!! And the looks she received from those surrounding her after she had politely said no, she was better off.

But now they're moving on and she knows she can't let them continue their bizarre form of entertainment. What could she do though, she was just a ghost. She'll have to try to find someone, or something, to help her…..
~~~~~~~~~~~~~~~~~~~~~~~~~~~~~~~~
Hey Todd--Ok and now my guest post. I was going to try to do something cryptid related but I came up blank. Then I was going to do something funny, and well it ended up not being very funny at all. So I decided to try something else out. You've been wanting discussions-so I thought a good idea would be getting people's opinions on comics in printed form vs. comics on the web and what they're likes and dislikes were. I know there's been topics on forums all over on this, but I don't think you've ever had something related to this on the blog, and if you did feel free to smack me upside the head and say 'I already did that you ass!'
Ok so webcomics aren't new and neither is the way of things for comics in printed form. And they're also crossing over-webcomics get collections and some people decide to post their comics online, for various reasons, whether financial or just to get the word out to people. I've noticed more people heading to the web these days though. While I love comics in ANY form, I'm hoping weekly's and even trades continue, and I mean for those people who aren't doing work for the big 2 and Image. I understand the hurdles involved to get books out there these days, but I love going to the store and getting books.

On the other hand I like a lot of webcomics as well, but I don't get to be on the internet that much, or for long sessions at a time, so I get behind on a lot of them. Thankfully some have become popular enough, or the creators get the money and chance, that they get collected and are available somehow for purchase. I personally would rather have the books as it's easier to cart them around and read than for me to lug my entire workstation around with me. Yeah, I could buy a laptop and get, or *ahem* 'borrow', some wi-fi, but no matter what I will always prefer the printed form.

So what are people's thoughts on this? And if you read any webcomics what ones? I'm always looking for good ones to read so let me know of any good ones!

Heywood Mike
and here's a quick
"five for friday!"
from me
same last names
1. betty, gary, anderson
2. ted, lana, tina
3. kate, steve, terry
4. george, bret, lorne
5. lorne, tom, garth
have a great memorial day or jake's birthday weekend!
~~ however you celebrate...
thanks again, mike!
smell ya later!
todd