okay...
rich sent this over to me on friday and, though i had already posted the pig/prank story (more on that below), i just couldn't wait to share this breaking cryptid news!!!
check this craziness out--!!
New 'Montauk Monster' spotted in Panama
A mystery creature reportedly beaten to death by a group of teenagers in Panama is the subject of much speculation on the web.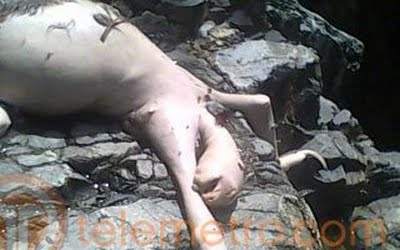 Photo: TELEMETRO
The beast's hooked claw may indicate that it was a sloth
The beast's hairless, rubbery body and revolting features have drawn comparisons with the Montauk Monster, the still-unidentified animal photographed on a New York beach last year.
According to reports in Panama, the teenagers spotted the creature crawling out of a cave while playing in the town of Cerro Azul north of Panama City.
Fearing for the safety as it moved towards them, the youths claim they attacked the beast with sticks before throwing its lifeless body into a pool of water.
They returned later to take pictures of the corpse which were then posted on the website of the Central American country's Telemetro television station.
The images have since bounced around various cryptozoology blogs, with several explanations suggested for what it might have been.
A hooked claw visible in one of the photos has been cited as evidence for the popular theory that the creature was a sloth that somehow lost its hair.
The so-called Montauk Monster provoked intense speculation when photos allegedly taken at the Long Island resort where it was washed up were posted on Gawker, the US gossip website.
It was variously identified as a dead dog, a disused film prop and a marketing stunt, but its remains have never been found.
~~~~~~~~~~~~~~~~~~~~~~~~~~~~~~~~~
as far as the pig goes, here's the follow-up;
initially i said that mike and i were planning on leaving a
greased
pig in the school that night. ultimately we didn't grease the little football up 'cause we weren't sure that the grease we found would be safe for the little fella. also, we made arrangements with our friend, brent hobson, to have him 'offer' to take the pig back to leib's farm the next morning--so that the little guy's high school adventure wouldn't be too long (or, hopefully, too traumatic!)
so we got the pig in there and, though none of the faculty were hip to who did it, most of the student body were definitely in the loop and mike and ray and i were heroes for the next few days.
and, a few days later, mike went into the darkroom located at the back of the shop--industrial arts lab for all you kids out there--and he and our other pal, bernie o'callaghan, developed the pictures so that mike and ray and i would have one for posterity, to dig out at our, i don't know, high school reunion and relive those glory days. at some point...
allegedly
...one of the proofs came out a bit blurry and bernie threw it in the trash. mike had been meticulous about making sure that there was no evidence left behind. if you knew him, you'd know what i mean. if you knew bernie...you can SO see him doing this.
eventually, the photography club advisor, mr. brady, discovered the discarded print and took it to the principal, mr. sacco.
who sat on it.
for months.
until graduation.
now i was never what you'd call an excellent student. i learned a lot in school and absorbed, apparently, a lot more than i ever knew, but i was more there for the fun and the socialization. so i was just as shocked as anyone when my name was called and i was asked to come to the front of the group. and then mike's name was called. and then ray's. and would you believe we actually stood there for a moment looking at each other with these dumb looks on our faces before we suddenly realized what it was we had in common...?!
"you may remember," our principal, mr. sacco, said as he addressed the curious crowd, "that our school was honored by a visit from a small pig back in january..."
the three of us just stood there, not sure what exactly was coming down. were we about to be expelled from school forever, now, on the very verge of graduation? booed and humiliated by all? worse, was mr. hryshko going to suddenly appear from the back of the tent (we had our graduation in a tent because somebody burned down our gym) and pummel us in a murderous act of revenge???
"ladies and gentlemen, i give you the three young men responsible for that visit."
a cheer went up from our classmates behind us. laughter and applause were quickly followed by a standing ovation, my dad making eye contact with mike's dad in a moment of true fatherly pride.* the three of us breathed a sigh of relief.
* unbeknownst to us at the time, our dads, as members of the high school basketball team way back when, had brought a cow into the school one night and took it upstairs, knowing that cows refuse to be led downstairs. a harness had to be made and the cow lowered out an upstairs window to get it home.
on the few occasions i had to speak with mr. hryshko following graduation, i tried earnestly to let him know that the pig in his classroom was never meant to be an affront to him in any way. i never felt completely successful in this. at the wake of a good friend's mother, some friends and i were talking with him as he went around the small circle asking what each of us were pursuing in college. when he came to me i tentatively said, "theater and communications."
"really, mr. dezago?", he said. "i would have thought that you would have gone into the field of agriculture or animal husbandry."
the other guys laughed so hard, we got glares from the other mourners.
i had a truly fantastic time this weekend with my old friends and high school classmates at our reunion, reliving that story and a bunch of others. i highly recommend that you go to yours when the time comes--i know a whole bunch of people who are going to regret missing ours in the next few weeks...
~~~~~~~~~~~~~~~~~~~~~~~~~~~~~~~~~~~

~~~~~~~~~~~~~~~~~~~~~~~~~~~~~~~~~~~
the answers to your
"five for friday"
1. who played the professor on gilligan's island?
russell johnson
2. what was the name of the blues brothers first album?
briefcase full of blues
3. what were the first names of the two czech wild and crazy guys, the festrunk brothers?
georg and yortuk
4. where should the reciprocating variable tumbler go?
up front, just above the primary lead tumbler.*
(*except in a yale guardsman where the variable tumbler is eliminated entirely.)
5. how did the principal find out about the pig...?
well, now you know...
happy monday!
smell ya later!
todd