okay...
so today is all about the beatles...
and why not?! with today's highly-anticipated release of
the beatles:rock band
coinciding with the reissues of the entire beatles catalogue on remastered cd, i am very very happy to give them a day! happy birthday, beatles!
or...whatever.
i caught dhani harrison on the tonight show with conan o'brien last night and while i myself have had to swear off of video games
(i can be a bit obsessive about these things and when you're a writer, you can't let yourself get sidetracked like that...oh, look...a comic book!!
), they showed some bits from the video game's journey through the beatles career and it just looks amazing! dhani said that he's seen grown men cry playing it and i'm sure i would be right with them.
and a part of me really wants to play it--but...not really. i wanna watch it, wanna see what they've done and experience the excitement and the history as it unfolds all around me! it sounds very neat.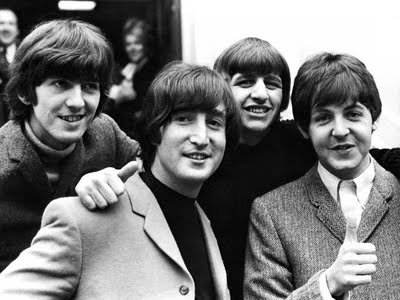 so for some fun, i thought i'd shake things up and lay down some fab four trivia today in celebration of the greatest, most influential band in rock and roll history. you might think you know the lyrics to all the beatles songs, but do you know them out of context? below are some lines from ten songs throughout their career--see what you can do...
(and i think it's only fair to say, kc, you are not allowed to compete...)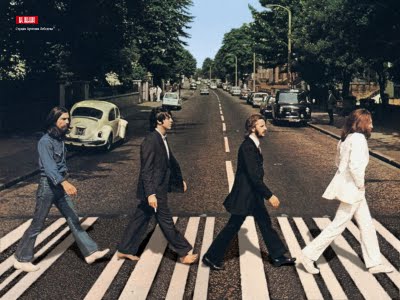 "five for the fab four!"
DOUBLE!!
1. "...swaying daisies sing a lazy song beneath the sun..."
2. "...i don't know
why you
should want to hide..."
3. "...changing my life with the wave of her hand..."
4. "...love you forever and forever, love you with all my heart..."
5. "...the man in the mac said you gotta go back, you know they never even gave us a chance..."
6. "...and when i touch you i feel happy inside..."
7. "...i'm so glad that she's my little girl..."
8. "...and the banker never wears a mac in the pouring rain..."
9. "...he wear no shoeshine, he got toe jam football..."
10. "...if there's anything that you want, if there's anything i can do..."
have a great beatles day!
smell ya later!
todd