okay...
i an effort to distract ourselves from mother's day, my dad and i, hoping that the crowds would have died down by now, went to see spider-man 3 at our local cineplex last night.
have you ever run that bit of reverse-psychology on yourself, telling yourself that it's been a whole week since the opening, plus that it's mother's day, and then reverse-reverse-psychology it wondering if EVERYONE ELSE is making the same assumption, so maybe we shouldn't go 'cause it'll be packed, but then what if THEY'RE all thinking that too and the place is gonna be empty and...
well, i don't really do that. maybe a little. truth is, over the years, i've come to shun the theater experience when i can help it. i used to LOVE going to the movies! there was a time in my life when i went sometimes 4 or 5 times a week! now though, i'm so frustrated by the incivility of people; the talking, the cell-phones, the rampant YOUNG children, who in most cases are too young for the film anyway...it seems that, since the advent of the vcr back in the 80's, people more and more feel that they can talk during a film, like they're in their living rooms! in the movie theaters, inconsideration is becoming an artform!
this is my one pet peeve.
i gotta get offa this or i'll go crazy.
anyway...
fortunately the reverse-reverse-reverse worked out for us and the place was moderately comfortable.
and here's where the subject of this little post comes in...
i had, of course, heard a few reviews and comments from friends and acquaintences over the past week, and, as i said, craig's been waiting for me to see it so we can talk about it. most comments were that it was just too much, that there were too many villains, too many girls, too much over-the-top action to be able to follow...
INVARIABLY whenever i'm given an opinion by a friend or whoever, be it a negative or positive comment or review, i then go in and have the exact opposite experience. obviously because my expectations have been either heightened or lowered, i am almost always pleasantly surprised or somewhat disappointed, depending on how i went in. oh, even my constant optimism won't save a bad movie, but i often find that, though i try not to have ANY prejudices--or pre-judgements--it's tough these days, with so many trailers and previews constantly bombarding our tvs, to not have an idea of what to expect.
anyway...
i really dug spider-man 3.
no, it's not the movie i woulda made. i didn't like spider-man 1--felt that they totally missed the essence of spider-man, his compassion and sensitivity, his love and adoration of his aunt and uncle. the only scene we saw him with uncle ben they were arguing...what?!?!? his love and respect for uncle ben is what makes him put on that costume every night.
spider-man 2, i felt, redeemed this mistake a bit (the dream sequence/flashback with uncle ben was closer to the real relationship between them) and the doc ock storyline was solid.
so building on those, i really liked 3. i thought that the night fight scene right in the beginning with harry on the glider was too dark and too frenetic--i couldn't always make out what was happening, who just got slammed into that wall.
but overall, i thought it was fun. i still think that toby maguire only has one expression and it's one of shock and confusion. my pal, terry austin, says "he always looks like he's about to bust out cryin'."
but it was fun.
and i had fun with my dad.
and that's really all that matters.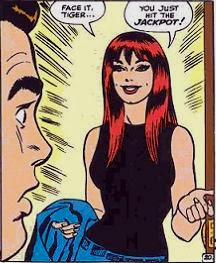 is this the greatest panel in the history of comics?
my friend (and organizer of the awesome baltimore comicon!) mark nathan thinks so.
i told him i needed some time to consider, but now i agree.
anybody got a suggestion? an alternative? a contender?
send 'em in--even if you don't have a scan--i'll get it...
smell ya later!