okay...
we had a great time at the screaming tiki con, mostly because we met so many really great people! but because i picked up a bit of a cold and am miserable today, i'll hafta give ya all the details tomorrow...
i will say that we DIDN'T sell out of the exclusive perhapanauts screaming tiki one-pages and i WILL have them up in the store shortly for all of you who have been asking.
~~~~~~~~~~~~~~~~~~~~~~~~~~~~~~~~~~
also, i didn't want to take up too much time today so that you can all get into this perhapanauts scary story contest from casey lucas! we've received a lot of great submissions, but there's still time if you're still ion the fence. remember to send your entries in to me at
todd@perhapanauts.com
also, though we have a cadre of impartial judges who will be deciding the winner in this little contest, please feel free to write into me at that eddress and tell me which tale of terror is YOUR favorite...i'd love to know what the
popular
favorite is as well...
and now, without further ado, is ADRIFT.
thanks, casey!
~~~~~~~~~~~~~~~~~~~~~~~~~~~~~~~~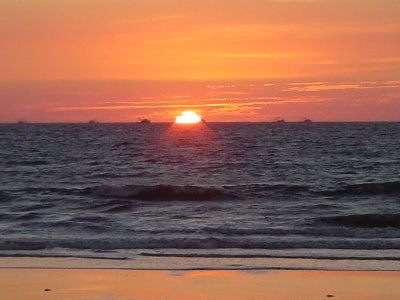 Adrift
From his vantage point upon the sand--a warm and gritty contrast to the cool breeze that tangles through his hair with unseen, salt-scented hands--the moment seems almost too picturesque. Silver Strand is spread out before him to the west, two point five miles of perfection. The sky is overcast enough that the pervasive San Diego summer heat has been reined in. The sun will be setting soon, taking much of the beachgoing crowd with it. Low tide will follow in an hour or so, if he remembers right.
Recumbent on the shore, he watches as surfers begin to make their way back toward dry land and waiting spectators and parked cars. They tend to move together in a subconscious way, in unhurried packs. He'd made the same walk himself dozens of times, if not hundreds, back when he still surfed. Perhaps he's just been out in the sun too long, but it occurs to him that he can't remember why he quit.
A sun-bronzed twentysomething that he identifies as Phillip--not really a friend but more than just an acquaintance, as you get to know people when you share the surf with them, day after day--wanders past where he reclines. The man trudges by, board over shoulder, and waves tiredly. He returns the wave for a couple seconds before he realizes that Phillip's eyes are not upon him, and that his wave was directed to the obviously-pregnant blonde loitering in the elevated parking area.
Seeing her, he makes an instant mental comparison. Michelle is taller. Michelle is darker. Michelle is older. Michelle is his.
Though he wasn't particularly unhappy to begin with, his mood brightens instantaneously as he thinks of her. She'll be over any minute now, undoubtedly exhausted from that slave pit she calls an internship, needing a walk along the beach to unwind. And they'll talk and they'll relax and she'll repeat "only a couple more months of this bullshit" until he chides her about chanting it. And then back home, and then probably an hour or two of fucking each other's brains out. However, he isn't sure if that part qualifies as 'unwinding.'
She'll be irritated that he's misplaced his wedding band, but it really isn't his fault this time. He literally can't remember where he put the thing; it's as though he was wearing it one second and the next he just... wasn't. It's probably back at the apartment. Besides, it's just a hunk of metal, a tradition he'd given in to for the sake of satisfying her parents. They needed no such tokens to prove their devotion to one another.
He basks in the fading sunlight, thinking of her. She doesn't know he's already at the beach; he'd been hoping to surprise her. Or perhaps he'll simply loiter in the crowd a while and watch her swim before joining her for her jogging.
Gulls caw overhead, circling above dark-skinned fishermen that wade through the shallows. They carry poles and large white buckets. Some of the buckets, he knows, contain juvenile lemon sharks. The determined bastards often win the battle versus the perch and corbina that the bait is intended for. When he was a boy, he used to politely ask those fishing along the beach to give him their buckets of sharks so that he could release them further down the Strand.
"Most of them will die anyway," his father had said. "They've got hooks in them. Or holes where the hooks got ripped out."
But he knows he'd done quite a favor to the ones that lived.
A pair of elderly women stroll along the shoreline, combing the beach for intact specimens of the delicate silver shells the Strand was named for. He nods to them; they don't respond. It's then that he closes his eyes, breathing in the smell and taste and sound of the surf. He lays completely still, as though by doing so he can just absorb the whole ocean through osmosis.
When he opens them again, he's already missed her arrival. Silhouetted by the dying sun, she stands thigh-high in the water, all caramel skin and black bikini and black hair, which she's busy pinning into place atop her head. He watches from afar as she dives under soon after. She swims through the shallows without pattern, avoiding the fishermen, avoiding the remaining children that splash around beneath the eyes of watchful parents.
He stares as she sluices through the water. When God looks at Michelle Avila, He must feel like Alexandros of Antioch as he chiseled the final curves of the Venus de Milo's hips. Or perhaps like Enzo Ferrari installing a V12 engine into something much more sleek and modern.
She swims for longer than usual--probably stress from work. He'll be happy to listen to her bitch as they walk, because even complaints about good-for-nothing bimbo paralegals and lecherous old tax lawyers are spoken in the sound of her voice, which to him can never sound unpleasant.
With sun-baked sluggishness, he peels himself from the beach and to his feet, meandering toward the shore as Michelle emerges. Water trickles down the slopes of her body and he wants to towel her off himself, maybe with his tongue. She stoops over, wringing out her hair, and he moves forward to meet her.
His steps are the rhythm of the waves lapping at the shore.
"Baby," he starts, "I know you're gonna be pissed off, but it's not a big deal. I lost my--"
Michelle snaps her head up. Her eyes meet his, wide and doelike. She screams, and his soft protest is the salty whisper of the wind in her ears.
Pleadingly, he reaches for her. His palm swiping through her shoulder is the trace of an icy shiver up her spine. As she stumbles to the shore, still screaming, sunset glints in orange and gold off the wedding band she wears on a chain around her slender neck.
She leaves him there on the beach where he drowned.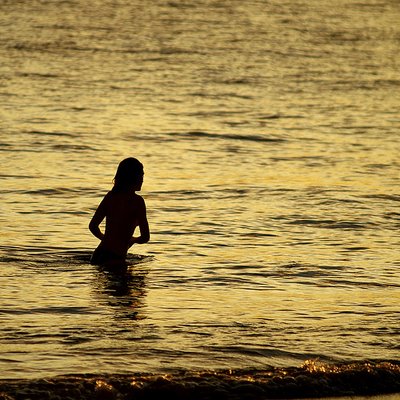 ~~~~~~~~~~~~~~~~~~~~~~~~~~~~~~~
i gotta go take some dayquil.
smell ya later!
todd