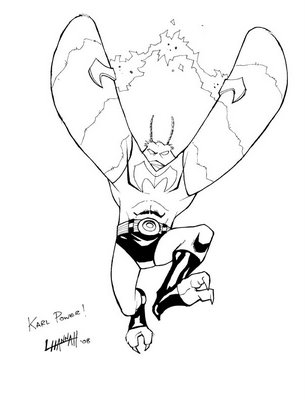 hey, craig here (yeah, i know, i 've got my own
blog
... which you all stop by and peruse occasionally, right? but this perhapanauts related, so here i am!)...
as todd has said, we had a great time in baltimore with family and friends... AND i was lucky enough to trade a karl piece i had lying around for this SWEET "super karl" drawing by our very own leanne hannah (she and scott weinstein have worked up a fantastic molly-centric story coming your way soon! if you haven't seen her stuff, check it out at her
website
... go on,  you know you want to... i'll wait)
and if you dig this (and why wouldn't you?) you'll LOVE the pin-up she did of the whole super-team...!
okay, back to todd's regular blog-iness...
-c