okay...
so you've been wondering, "well, todd--you say there's gonna be a contest, but, dude...what's the prize?"
well, it's funny you should ask...
first, here's the details (that i've thought of up 'til now. there'll prob'ly be more addendums later...)
1. your story can be either fact or fiction. make something up if you want. we just wanna be scared...
2. your story does not have to have happened to you. you can tell another person's story or relate an historical tale--just do it in your own words.
3. your story MUST be YOUR OWN--no plagarisms!
4. all stories must be sent to me between now and midnight, october 24, 2008 to be eligible. e-ddress your stories to
todd@perhapanauts.com
the subject line should read "perhapanauts scary story contest" to be eligible. make sure your name appears on the story.
5. stories will be read and a winner selected by an august group of uninvolved judges whose names will not be revealed so as to avoid bribing...
as for that prize--actually, there are several...
~ the winner will receive an autographed full run of our first story arc of the perhapanauts no.s 1 through 5, including the annual and monster pile up!
~ the winner will also receive a bag of assorted other perhapanauts loot!
~ the winner will be
drawn
into an upcoming issue of the perhapanauts as a member of the BEDLAM staff! (of course, after this, we
own
you...!)
~ the winner will also
RECEIVE
the page of original artwork by craig rousseau of YOUR COMIC BOOK DEBUT! (and it won't be some lame thing--i'll write something cool!)
so get thinking and get spooky! halloween is but once a year and this could be your chance to win something cool!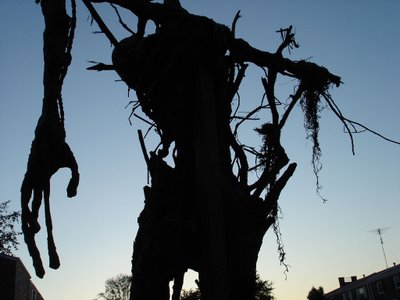 ~~~~~~~~~~~~~~~~~~~~~~~~~~~~~~~~
here, now, to get the ball rolling, is our good pal, adam hutchinson!
todd,
I know you were asking for scary stories. I don't really have any (great
way to start huh?) but I work in a building that is supposed to be haunted.
I work in the old Herkimer County Courthouse. It's the courthouse that held
the Chester Gillette (made "famous" in An American Tragedy and Murder in the
Adirondacks) and the Roxalana Druse trials. My office was the old Judge's
Chambers and my boss's office is the old Jury Chamber.
The story goes that the building is haunted by Roxalana Druse's ghost. I've
never experienced anything, but she's supposed wander my floor. I do make a
point that if I have to come in after dark to be in and out as fast as
possible.
This is the story of her trial:
"On February 28, 1887 - 40 year old Roxalana Druse was hanged in New
York for murder. Roxalana and her retarded daughter, Mary, beat her
husband John (aged 72) to death and then chopped up his body, afterwards
boiling down the remains. They lived in a frontier cabin in Little Falls,
New York, and were caught because her 12 year old son informed the police
that his father was missing. The alleged motive for the crime was that her
husband worked her too hard. Her daughter was given a prison sentence for
her part in the crime.
At her execution, Roxalana was jerked upwards by a weighted rope
(instead of being dropped through a trap door) and this failed to break her
neck. She took 15 agonizing minutes to strangle to death on the noose. The
scene so upset the officials that it was decided to alter the method of
execution and this led to the introduction of the electric chair in 1890.
(She was the last woman hanged in New York State.)"
What's kinda creepy is that the jail where is she was hung is across the
street, and we all park behind it. If you look up at the back of the old
jail, the door she came out when she was hung is still there, as is the hook
they used to hold the rope. Also during the hanging so many people gathered
to watch that people were forced to sit on nearby roofs to get a "good
view."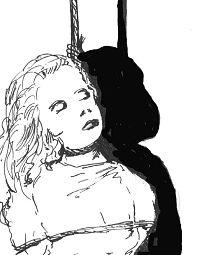 So there's my one not really scary story, but if I do ever run into Mrs.
Druse, I'll give you the full account.
Sincerely,
Adam Hutchinson
thanks, adam!
good one!
~~~~~~~~~~~~~~~~~~~~~~~~~~~~~~~~~
hey! how about some trivia...?!
here are the
answers to your
"five for friday!"
1. what handsome actor once distracted a young woman so much that she unintentionally put her ice cream cone in her purse rather than the change in her other hand? (thanks, wendy!)
paul newman
2. on
gilligan's island
, what was gilligan's first name?
willie
3. in the film
butch cassidy and the sundance kid
, which role did paul newman play?
butch cassidy
4. william goldman, the author of
butch cassidy..
. also penned what classic rob reiner film that featured a character with six fingers and the word "inconceivable!"?
the princess bride
5. in memory of the late, great paul newman, name the movies in which he portrayed these characters...
a. henry gondorff =
the sting
b. fast eddie felson =
the hustler
and
the color of money
c. luke =
cool hand luke
d. hud bannon =
hud
e. doc hudson =
cars
okay--gotta go!
smell ya later!
todd