okay...
the all-new, all-different PERHAPANAUTS 4 hit the stands last week and the reviews are in!!!
it's pretty good...
here, our pal, russ burlingame from comicrelated.com pursues answers that i'll never give him...
check out his column, "what's perhappenin'?"
http://www.comicrelated.com/commentary/perhapanauts_081002.html
~~~~~~~~~~~~~~~~~~~~~~~~~~~~~~~~
hey! good news, perhapa-fans!
coming home from the baltimore comiccon, sharon found that we have about twenty of the exclusive choopie buttons left! we won't be posting them in the store 'cause we only have a few left. but if you would like one, they can be had for the low price of $2 (plus another $2 for postage and handling)!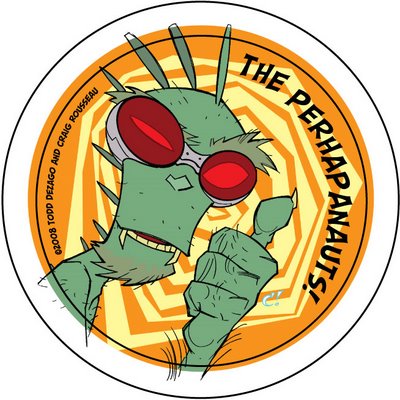 if you really can't go another day without one, you can make a payment to our paypal account paypal@perhapanauts.com
(please be sure to include your address...)
or e-mail me at todd@perhapanauts.com for info on how and where to send a check or money order.
thanks!
~~~~~~~~~~~~~~~~~~~~~~~~~~~~~~~~~
here are a few more costumes from the baltimore comiccon sent over by adam hitch! thanks, adam--i was lookin' all over for the plaid man of steel...
harley quinn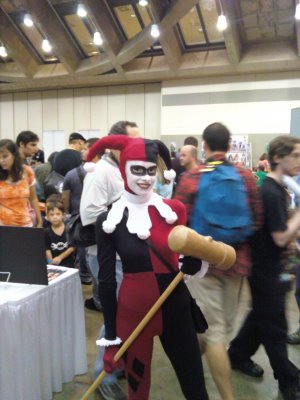 nick fury and superman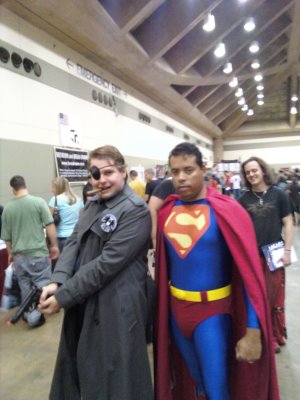 rorshach and deadpool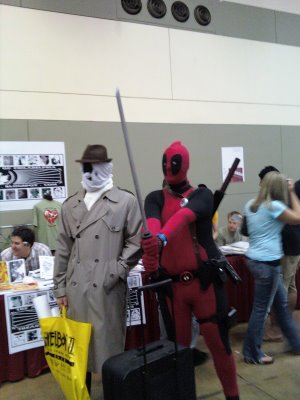 ...and plaid superman!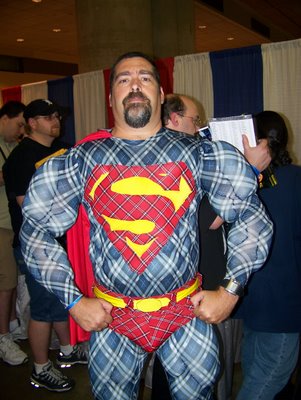 ~~~~~~~~~~~~~~~~~~~~~~~~~~~~~~~~~~~
here's a pic of our pal--and occasional blog sub--roger ash, with nick cardy and his sketch of bat lash!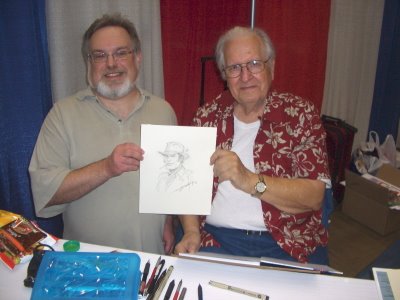 that's a great sketch, roger!
~~~~~~~~~~~~~~~~~~~~~~~~~~~~~~~~~~~
hey! how about some trivia...?!
here are your
"five for friday!"
1. what handsome actor once distracted a young woman so much that she unintentionally put her ice cream cone in her purse rather than the change in her other hand? (thanks, wendy!)
2. on
gilligan's island
, what was gilligan's first name?
3. in the film
butch cassidy and the sundance kid
, which role did paul newman play?
4. william goldman, the author of
butch cassidy
... also penned what classic rob reiner film that featured a character with six fingers and the word "inconceivable!"?
5. in memory of the late, great paul newman, name the movies in which he portrayed these characters...
a. henry gondorff
b. fast eddie felson
c. luke
d. hud bannon
e. doc hudson
have a great weekend!
smell ya later!
todd