okay...
i get my daily fix of calvin and hobbes from myucomics.com and, while i already posted some the other day, i just get a kick out of this storyline when calvin wanted so badly to be a tiger. and hobbes just made it all sound so secretive and exotic.


~~~~~~~~~~~~~~~~~~~~~~~~~~~~~~~~
so i'm showing sharon how to use google images the other night--she uses a computer and email at work, and likes to play the occasional game of zookeeper online, but she doesn't surf at all--and i typed in "choopie," something i, apparently, haven't done in a long time, and found this cute sketch from last year of our little guy by seth wolfshorndl over on his blog at three trees dot com. (www.threetrees.com)
very cool...!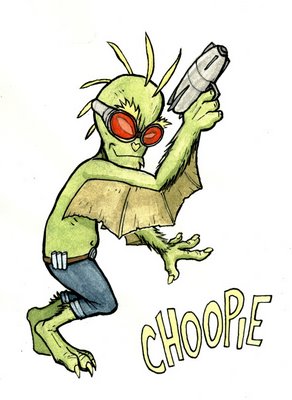 ~~~~~~~~~~~~~~~~~~~~~~~~~~~~~~~~~
just another reminder, for those of you who have yet to set your clocks ahead for daylight savings time, this saturday--MAY 2nd--is FREE COMIC BOOK DAY!! won't you stop by your local comic book store and take a comic book to lunch...?
once again, i'll be at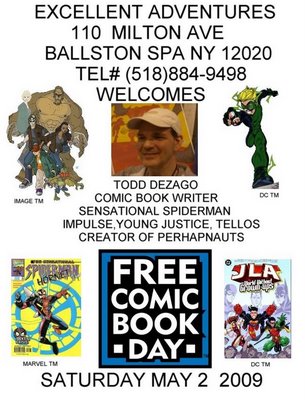 ~~~~~~~~~~~~~~~~~~~~~~~~~~~~~~~~~~
so this is kinda funny...
yesterday i received a box of the new flash: mercury falling trades from dc. this is always a huge treat for me--i still LOVE comics!--and free stuff!--and free comics!! and i opened one up and sat right down to read it. this trade collects the mercury falling storyline that i did in impulse about 8 years ago with ethan van sciver. there is no doubt that this is being reprinted to capitalize on ethan's ever-rising star and thank you so much for that ethan! : ) while there were moments of confusion due to some clunky storytelling (ethan was just learning his storytelling chops...) and some moments of verbosity due to me just not knowing how to be concise (i was still learning how to edit down my own dialogue...) and some truly cringe-worthy moments of editorial re-writing and tampering (don't get me started...), the book actually read pretty well. and after 8 years, it was all new to me!! well, not ALL new, i kinda remembered what sorta happened, but stephen king says that this is really the coolest part of being a writer; being able to read your own stuff years later and be charmed by it. i was.
now why it's called
the flash: mercury falling
when the scarlet speedster appears on exactly zero pages in the whole book, is beyond me. well, not really--we all know it's hype.
but it isn't a bad story...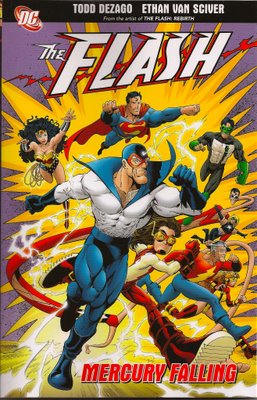 ---------
so i gotta scoot--
scott's coming up for a visit this afternoon
and i gotta get goin'!
smell ya later!
todd