okay...
so we had matt and suzanne (weiringo) up for a visit last week and now i'm kicking myself that i didn't bring the camera with us everywhere we went! we had a great time hangin' out with our 'brother and sister' and were truly sad to see them go. here are the couple pictures i
did
get;
i like candid shots myself, but this one obviously wasn't candid. spontaneous, yes, but not candid. suzanne certainly had enough time to smile.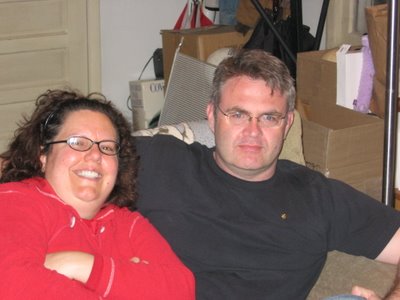 so for a second shot i said, "matt, you
could
smile, y'know?"
and i got this.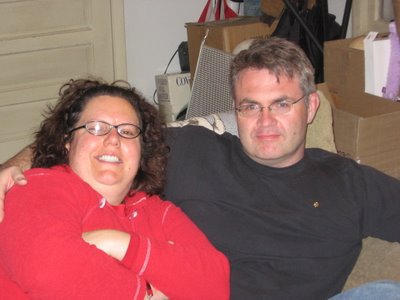 nice.
oh, well. i guess squeeze can smile enough for the both of them.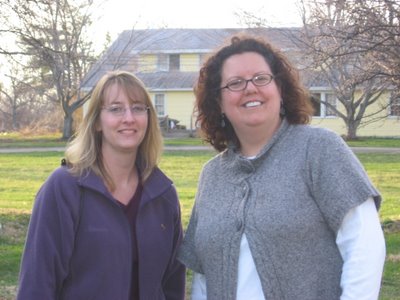 go check out matt's blog for more pics of us at the vanderbilt mansion and, most of all, matt's favorite diner!
http://mafus.blogspot.com/
~~~~~~~~~~~~~~~~~~~~~~~~~~~~~~~
so i'm bored.
and when i get bored, i usually try to think of something to do. also, i sometimes like to think of stuff to try to get
other
people to do. not in a manipulative way--in a creative way. like for example, we have some incredibly creative people amongst us here at the perhapa-blog as we have seen in past artwork and story contests. so i'm wondering how many of you would be interested in doing a little exercise...?
back in high school, i had this great student teacher in english, mrs. hines, who encouraged me to write as much as i could. but i would get frustrated because i just didn't have the time to write all of the stories that seemed, at the time, to be bursting out of my head. she offered that i should just write the scenes or passages that i could focus on at the moment and follow them up with notes so that i'd remember the rest of the story later and make way for the next brilliant train of thought that would be screaming into the station next.
that was great advice.
later, in art school, i had a particularly stern graphic arts teacher (whose name escapes me now) who demanded that we all keep a file of art and images that we found interesting, exciting, pleasing. he felt that these images would be both inspiring and defining of the art we wanted to produce and what discipline we would most likely follow. he referred to these files as morgues. which was cool.
so i still have a notebook where i write down the vivid, unstoppable scenes that hit me--usually from out of nowhere--from time to time. and i still keep a morgue--both on the computer and hard copy versions--of pictures and images that just catch my eye and say something to me.
and some of those pictures need a story to go with them...
last october, craig and i went to the very first screaming tiki con in ohio. for the show, we thought we produce another one of our exclusive prints in our perhapanauts one-page series. so craig drew up a picture and i wrote the text to accompany it and it was really a lot of fun!
see?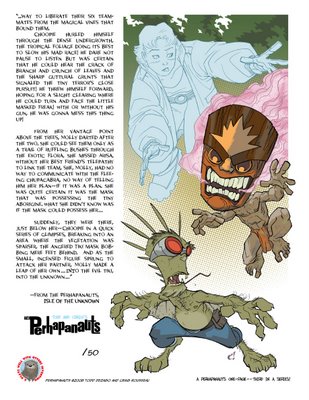 there's no more to the story than what you see (though i do have an idea of how they initially got to the islands and what was going to happen next...), but there's enough there to give the impression that you're catching just a snippet of a larger, more exciting adventure. at least, i hope you do...
so here's the exercise.
back in the very early days of the haps, craig did up a series of solo plates of each of the characters, putting them in some kind of cool adventure/situation to give an idea of what the perhapanauts were, eventually, gonna be all about. we haven''t done anything with any of these (...yet), but here's molly's for you to play with.
so what do
you
see? what's the story?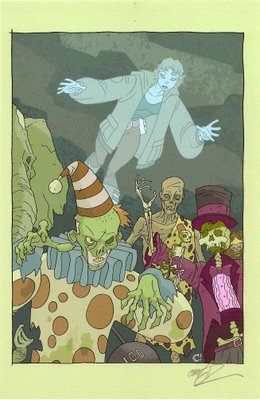 smell ya later!
todd