okay...
maybe i'm two weeks early, but i say summer is here!
(after such a long, cold winter i want to count as many summer days as i can...!)
and i'm gearing up for summer; makin' some plans to get out and enjoy the weather more, we've already had the grill out a few times, just put the air conditioner in yesterday...
and i'm lining up the books i want to read this summer. last year i was looking forward to settling in with the showcase presents house of mystery and brave and the bold--love that early 70's dc vibe!--whereas this year, i can't wait to get to two totally different, totally awesome collections; fred hembeck's phone book-sized tome, The ESSENTIAL HEMBECK and the trades of grant morrison and rich case's weird and wacky DOOM PATROL!
fred's book i don't really hafta tell ya much about except...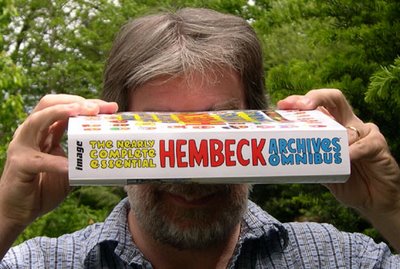 look how THICK it is...!!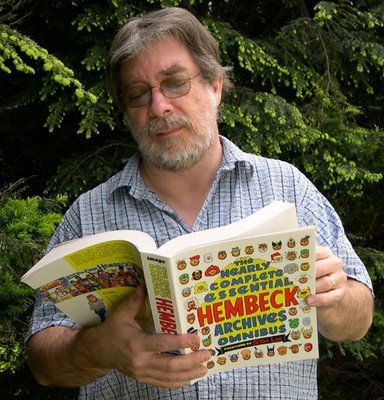 and doesn't that handsome man look scholarly...?
this collection has been a long time coming and showcases the uproariously funny fred at his very, very best!i can't wait to eat it up!
you can get fred's hilarious compendium of all that's funny in comic books through amazon, at barnes and noble and borders, and, if your local comic shop is cool, there.
as for the doom patrol, well...
when these comics were originally coming out back in the early nineties from dc's very nouveau vertigo line, i didn't know rich from adam. (i also didn't know
adam rich
, arrest prone former child star from abc's
eight is enough
...) (and before you ask,
nicholas
) when, in '96, i found myself
working
with rich on sensational spider-man, i tried my best not to gush too much about how much i had loved that series. recently, while working on our perhapanauts back-up story (well, it was actually driving around raleigh/durham), the subject came up and off i went, telling rich that i needed to dig those babies out and read through them again. shortly thereafter, a box showed up at my house with the trades and bearing sketches and dedications from rich on the inside covers. (honestly, how do i deserve friends like this...?!)
so i'm settling in this summer for some of the wildest, wonkiest stories ever told in comics and, rich, i can't thank you enough! i'm not usually a "gotta have the trades" guy, but these are treasures!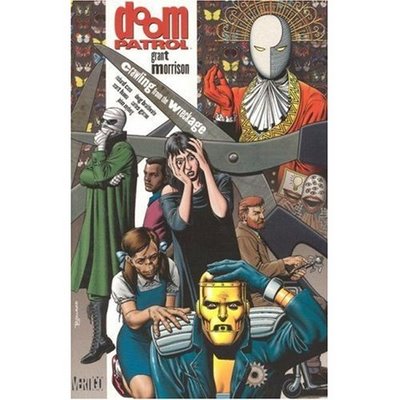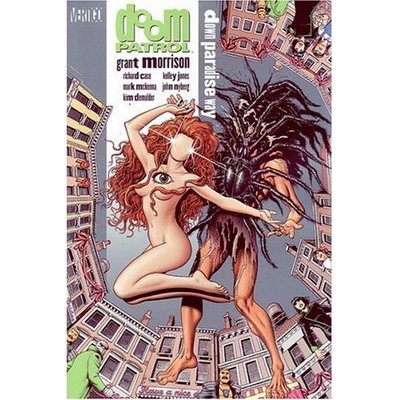 how 'boutchoo?
what's on
YOUR
summer reading list...?
~~~~~~~~~~~~~~~~~~~~~~~~~~~~~~~~
and here are the
answers to the
"five for friday"...
1. who was the second animated character to receive a star on hollywood boulevard?
bugs bunny
2. in what current u.s. state is the site of custer's last stand?
montana
3. if a centipede has a hundred legs and a millipede has a thousand legs, what does a velocipede have?
wheels
4. what was the name of the hotel john lennon was living in and was shot to death in front of?
the dakota
5. ha! a fiver! name the members of the electric mayhem!
a. dr. teeth
b. floyd
c. zoot
d. janice
e. animal
that's it!
smell ya later!
todd