okay...
well, now that everyone's had a chance to obtain and read a copy of the all-new PERHAPANAUTS 2--and we still have no answer as to why half the shipment was staggered by a week--craig and i just want to thank EVERYONE out there for reading the book, for writing in with your wonderfully kind and supportive letters and emails, and for joining us here and being a part of our perhapa-family online.
because, for us, the PERHAPANAUTS is truly a labor of love. i know i've said this before and i don't want to sound like a skipped disc (and i certainly don't want to sound like i'm complaining...), but the state of the industry today means that small independent books like ours just don't make money. you might think that, because we have a published book being printed and distributed each month, we must be raking it in, right? yeah, we used to think that too.
but after printing and shipping and about a ka-billion other ancillary costs, we make zero cents.
and we've spent much, much more than we can afford to.
we do it all knowing that we're not going to see any money for it. oh, maybe a little something later--much later--when the stories are collected into a trade. or, on the wildest dreams side of it, someone decides that the PERHAPANAUTS would make an awesome movie or saturday morning cartoon--although THAT industry is having it's own hard times...we do it 'cause we want to, because we have to. we squeeze it in between spider-man jobs and licensing jobs and the real paying work. for craig, when the kids are napping (i don't know how he does all he does...!). we work late into the night--rico too. (god bless you, rico...) we make time for it.
so, for us, the PERHAPANAUTS is a true labor of love; we love the characters, we love the stories we have to tell about them, and we love you, the READERS. we love your enthusiasm, we love your concern and speculation, and we love your letters and kind words of support and encouragement.
that's
what keeps us going,
that's
what we do it for.
for you.
thank you, thank you, thank you!
~~~~~~~~~~~~~~~~~~~~~~~~~~
HEY!
don't know if you noticed, but the t-shirts are HERE!!!!! -------------------->
our good pal and attentive web-slinger, kieran, did a little work in the store area of our site and has added a few things here and there! check 'em out! they make great gifts! : )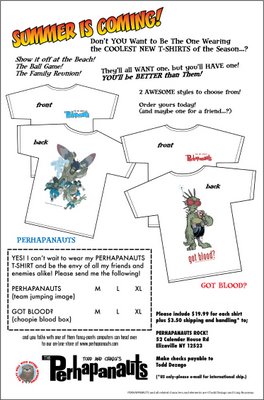 (we also have a select few of the
new york comicon exclusive perhapanauts t-shirts
available featuring both images, the team on the front and choopie on the back. please inquire about sizes.)
~~~~~~~~~~~~~~~~~~~~~~~~~~~
and, not that he's gonna make a habit of this (he says) here's a pic of perhapanauts 2 on the racks at challengers comics + conversation in chicago courtesy of our pal, patrick brower.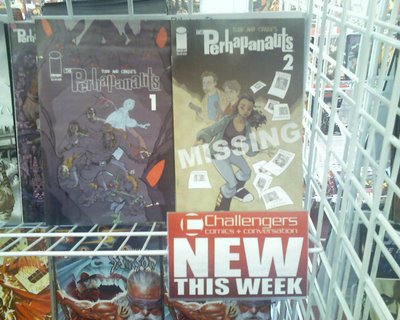 woo hoo!
thanks again, patrick!
~~~~~~~~~~~~~~~~~~~~~~~~~~~
and
finally
here are
the answers to
the
"five for friday"
it's "what actor?" time
i'll name 3 movies and
you tell me the actor that
appeared in all 3.
ready?
1. beethoven, jerry maguire, the green mile
bonnie hunt
2. the deep, firewalker, enemy mine
lou gossett jr
3. dark city, requiem for a dream, dark water
jennifer connolly
4. what dreams may come, dead again, moscow on the hudson
robin williams
5. noises off, deathtrap, the remains of the day
christopher reeve
have a great day!
smell ya later!
todd