okay...
don't really know what i was looking for or where i found it when i stumbled across this wicked sculpture/statue of a chupacabra and the jersey devil--it didn't even say who the artist was, but i thought it was cool...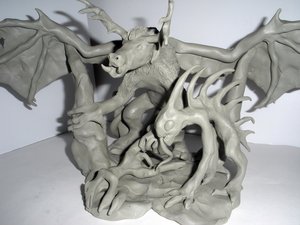 ~~~~~~~~~~~~~~~~~~~~~~~~~~~~~~~~~
quite a few people rose to the challenge of writing some dialogue for the couple of panels i posted the other day.
our pal, mike estelle (heywood), sent in this exchange...
panel 1:
Choopie-Hey what ya doing?
panel 2:
Big-Playing World of Warcraft
Choopie-Don't look like 'Warcraft' to me.
panel 3:
Big-You still here? Go away...
panel 4:
Big (thinking)-Man he can be such a pest....
Choopie (thinking)-Looks ALOT like porn to me.....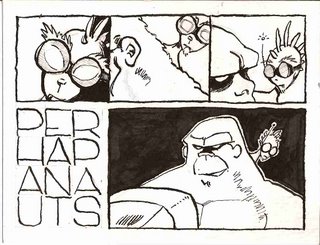 doczauthor submitted this humorous retort...
First two panels, no dialog.
Third panel:
BIG: What?
Fourth Panel:
CHOOPIE: Maybe you should try Selson Blue.
...and brian mulcahy posted the following...
Panel One:
Choopie: Hey, Big, what ya' doing?
Panel Two:
Big: Checking out Todd's Perhapablog
Panel Three:
Choopie: But it's Thursday, I thought Todd only blogged on Monday, Wednesday and Friday.
Panel Four:
Big: Todd's directing a play this season, so he's had to cut back to just blogging on Tuesday and Thursday.
Choopie: Bummer.
Editor's Note: We're bummed too Choopie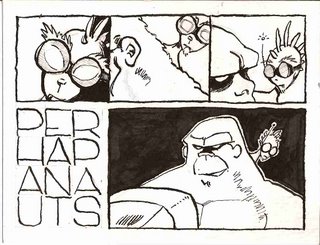 ...and ernie dropped in with this one...
PANEL ONE
Choopie: Brazow! Graargh! And then the thing with the eyeballs exploded next to that other smelly thing!
PANEL TWO
Choopie: *whispers* And then Choopie dropped in to save the day 'cause Big was crying like a little girl again!
PANEL THREE
Choopie: Um...what?
PANEL FOUR
Big: This is why nobody will ever, ever, EVER let you log a mission recap.
Choopie: Pheh. Yours don't 'pop' like mine...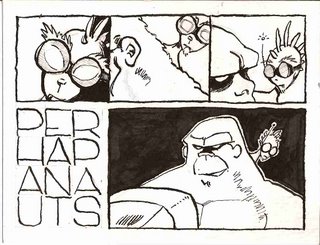 ...and a colorized, dialogued version from david...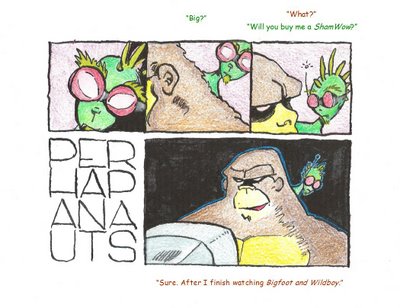 ...and here's my 2¢...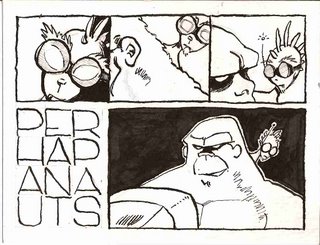 panel 1
choopie: wow. that's creepy.
panel 2
choopie: those eyes. just starin' atcha. s'like they follow you wherever you go.
panel 3
choopie: what the heck IS that?
panel 4
big: that's the money you'd be saving by switching to geico.
~~~~~~~~~~~~~~~~~~~~~~~~~~~~~~~~~
SPOILER! SPOILER! SPOILER!
if you've yet to read PERHAPANAUTS 5 (what are you waiting for?!?!?) then read no further...
so, now that perhapanauts 5 has been out for a week or so, i thought it would be okay to print my dear friend, wendy's, letter...
Dear Todd~
I just got a chance to read the new Perhaps .. and I'm
at the page .. the .. *sob* page .. where .. *sob*
oh..
Larry!!!
*sob*
gotta go.. can't hold it together any longer ...
*sob*
and need to see ...
what happens...
next ..
*SOB*
xo
~W~
~~~~~~~~~~~~~~~~~~~~~~~~~~~~~~~~~~
here are the
answers to your
"five for friday!"
groups--can you...
1. name the beatles.
george harrison, john lennon, paul mccartney, ringo starr
2. name the monkees.
mickey dolenz, davy jones, mike nesmith, peter tork
3. name the members of monty python's flying circus.
graham chapman, john cleese, terry gilliam, eric idle, terry jones, michael palin
4. name the original 7 not ready for prime time players.
dan ackroyd, john belushi, chevy chase, jane curtin, garret morris, laraine newman, gilda radner
5. name the banana splits.
fleegle, bingo, drooper, snorky
as brian suggested, now that the blog is twice a week, i thought we'd call out trivia "twofer tuesday" and give the answers on our thursday post.
although just two questions might not be enough....
so we'll see...
but here are
your first
"twofer tuesday!"
1. name the comic that...
a. teamed batman with other dc heroes
b. teamed the thing with other marvel characters
c. teamed superman with other dc characters
d. teamed spider-man with other marvel heroes
e. teamed superman with batman
2.
match the actor with the movies
a. trading places, k-9, red heat
b. philadelphia, parenthood, max dugan returns
c. fried green tomatoes, some kind of wonderful, bennie & joon
d. pushing tin, the bone collector, sky captain and the world of tomorrow
e. l.a. confidential, the quick and the dead, the insider
see ya thursday
smell ya later!
todd