okay...
so, here we are.
it's official--perhapanauts 5 will be on stands at your favorite little comic book bodega this coming wednesday, january 14th!
this issue--entitled "divided we fall"--brings our first image five part story arc,
triangle
, to it's mind- and dimensions-shattering conclusion and ushers in an all-new era for our hapless haps! this'll be one to remember, folks! (like when people say, "oh, yeah! remember FF 48!" or "amazing 121 !" or "x-men 137!" now they'll add perhapanauts 5 to the roster! oh, yeah, also this is our first number five! we've had fours before, but this is FIVE!"
anyway, when you line up outside your lcs on monday night with your sleeping bag and your cooler full of hot pockets to cook over your little sterno grill, you'll be a step ahead of all the other crazed perhapa-fans because you'll know what to look for, 'cause the awesome cover, by the lovely and talented craig rousseau, looks like...THIS! V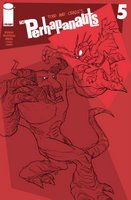 okay, maybe you've seen that amazingness before...
but you haven't seen the stylish and foreboding flip cover by our pal, jason copland, yet, have you?
HA!
here it is!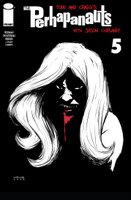 jason also provides the artwork to this issue's back up story, "evaluation", with colors by chris summers!
it's 28 solid pages of perhapanauts action--there's not even room for a letters page!!
so join me, craig, rico, along with jason and chris next wednesday and tell your friends...!
this one's gonna hurt!
~~~~~~~~~~~~~~~~~~~~~~~~~~~~~~~
btw--has anybody been to the perhapanauts entry on wikipedia? my nephew told me that there was one there about a year ago (i checked it out and it was very brief...). but i just happened on it again the other day and, man, somebody has put a lot of time and effort into getting it together! it's not only beautiful, it's flattering! there are a couple of inaccurate items (like molly's familiars) but they are all based on early information that we put out there and then decided to abandon or postpone for story or sanity reasons. i don't know who did it--though i have my suspicions--or how you find that sorta thing out, but for your time and hard work and obvious passion for the book and the characters, thank you, thank you, thank you!
http://en.wikipedia.org/wiki/The_Perhapanauts
~~~~~~~~~~~~~~~~~~~~~~~~~~~~~~~~~
"five for friday!"
1. what major event happened in fantastic four 48?
2. what event took place in crisis on infinite earths #7?
3. what occurred in amazing spider-man #121?
4. thor #337 chronicled what cosmic event?
5. what tragic event took place in uncanny x-men # 137?
have a great weekend!
smell ya later!
todd