okay...
kinda snowed in this past weekend and, while craig and i went back and forth hooking up my webcam and designing/writing/formatting all the extras pages for the upcoming PERHAPANAUTS TRADE--and believe me, this thing is gonna be SUPER-jam packed with stuff, folks!! (more on this later...)--i had vh1's top 40 pranks2 and the game show netweork on in the background while i did housework and cleaning and stuff.
the pranks show was kinda cool--i've seen an episode or two of several of the shows they were drawing from; scare tactics, crank yankers, the man show, jackass, punk'd. but i hadn't seen--probably 'cause i just don't watch anything on mtv anymore--anything of the more ominous
room 401
. designed to be a sort of creepy candid camera, the reactions
these
pranksters are looking for is for their targets to question not only their eyes, but their sanity. if you get a chance, take a look. the pranks, as all good pranks should be, are never dangerous or malicious, but they do scare the victims with some top-notch illusions and well-thought-out effects. the flying cabbie and the liquid nitrogen ones are particularly eerie...
so, the other side of this is the game show network, on here mostly for the trivia questions and nothing else. i need to find some new material for the "five for friday!" wherever i can, right? but now my new favorite on gsn is the commercials. well, one commercial in particular. i love it so much, i've recorded it and watched it over and over--it makes me laugh everytime.
which commercial, you ask?
well, you've seen this guy, right?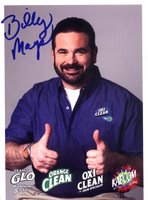 billy mays for oxi-clean or orange-glow or kaboom! or whatever!
in the proud tradition of the early tv hucksters like ron popeil--and i love how they make these commercials
look
like 70's throwbacks--along with looking like those guys at the county fair who are doing the demos like carnival barkers of yore.
but this guy...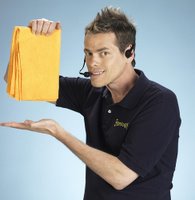 this guy, vince, is my new hero! i love him! with his one eye constantly cocked open, his speedy fast delivery, his style and charisma, he is, without a doubt, the reincarnation of actor lloyd nolan. vince looks like a cartoon hood, a street-talkin' wiseguy that i still somehow trust! and while the shamwow! commercials are already classiscs...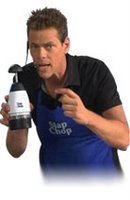 ...it's vince's clio-worthy work on the incredible slap chop! that has me rewinding over and over! not only informative, this commercial is hilarious and shows how far this young pitchman has already come! his jaunty smirk, his casual familiarity, his hubris--get this guy a sitcom! when he chops the onion...holy crap! he not only sells like no other pitchman before him, he transcends the entire advertising medium!
do not miss him!
and, oddly enough, when i did a google search for sham wow! images, this came up.
what the hell
is
this?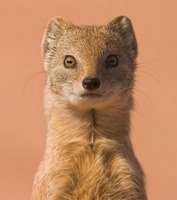 (as you can tell, i really didn't have much to say today--just all excited and getting ready for perhapanauts 5 to drop on wednesday!)
~~~~~~~~~~~~~~~~~~~~~~~~~~~~~~~~
here are the
answers to your
"five for friday!"
1. what major event happened in fantastic four 48?
the coming of galactus!
(first appearance of galactus)
2. what event took place in crisis on infinite earths #7?
the death of supergirl
3. what occurred in amazing spider-man #121?
the death of gwen stacy
4. thor #337 chronicled what cosmic event?
the is another worthy enough to hold the hammer--beta ray bill!
(first appearance of beta ray bill)
5. what tragic event took place in uncanny x-men # 137?
the death of jean grey
smell ya later!
todd