okay...
well, the issue's out and the word is in--perhapanauts no.5 is selling out in all the best comic shops all across the country! (apparently, getting a little graphic does wonders for your sales. who knew?) retailers are reporting that folks are even picking up the back issues to get all caught up on the story! hey, maybe we're finally starting something...?
thanks to everyone for buying and supporting the perhapanauts!
~~~~~~~~~~~~~~~~~~~~~~~~~~~~~~~~~
while trying to clean up my office/studio and get rid of some of the clutter, i came across a box with some old pictures in it and thought i'd share.
this is from probably 5 or 6 years back, before i got my digital camera. i dunno why these pictures came out blue. it was one of those cheap kodak disposable cameras. craig came here to my house for a few days and then we flew to raleigh/durham to hang with mike for a few days before hitting heroescon in charlotte.
here's craig with jake.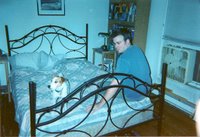 mike in the hotel in charlotte, telling me that maybe you should let people know you're going to take a picture more than 1 second before you take it.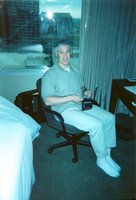 craig telling him that if you ignore me, i'll just go away.
(not true.)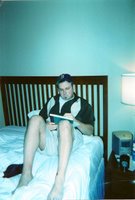 i can't remember if it was 2000 or 2001, but mike and craig and i were invited to a big show in plano, texas, known that year as the
batcon
as they were having as guests all of the surviving actors from the batman tv series. as an added bonus, the show's organizer--a wonderful guy named lance moore--made arrangements for us regular comic book guests to spend our first evening there at the six flags amusement park nearby. an incredibly nice gesture.
so we hooked up with our buddy, mark waid, and off we went, riding some rides and eating some carnival food.
when we came around to one of the park's biggest draws--the classic style mammoth roller coaster called the texas giant, craig and i stepped right up, tickets in hand and smiles on our faces. it only took a moment for us to realize that we had lost our erstwhile companions and we turned to see them about ten feet back, staring up at the coasters highest peak, eyes glazed over, mouths slightly agape. deafening screams were pealing off the coaster from that sharp descent and a flickering strobe went off every thirty seconds or so indicating the flash of the solidly mounted camera that was snapping away at the ride's hapless victims in their moment of utmost terror.
craig and i looked at them and then at each other, silently summing up the situation right away; roller coaster virgins.
we somehow conned them into going--i'm sure we promised them both that it wasn't as scary as it seemed and that those girls were just putting it on--and we paired each of them off with a seasoned veteran.
you'll notice craig and i are smiling.
i think mike looks like adam sandler when he's really angry and mark looks like he just ate some bad cheese.
suckers.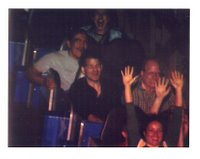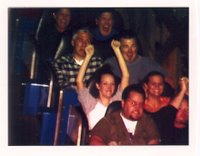 ~~~~~~~~~~~~~~~~~~~~~~~~~~~~~~~~~
yes, this next joke is lewd and some might even say sexist, but my uncle sent it to me and sometimes you just gotta go there.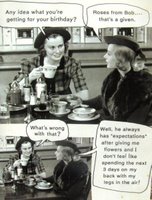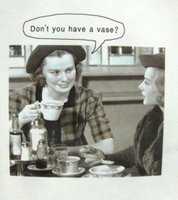 ~~~~~~~~~~~~~~~~~~~~~~~~~~~~~~~~~
"five for friday!"
some more
classic rock
1. in the classic elvis hit,
jailhouse rock
, who does the warden suggest you dance with if you can't find a partner?
2. in the movie "yellow submarine," who do the beatles find trapped/frozen in a glass snowglobe looking thing?
3. what is the title of the bob dylan classic that relates the tragic tale of boxer rueben carter?
4. in the beach boys hit "don't worry baby," what was she not supposed to be worrying about? (bj thomas did a version that cut this verse out, making it, well, just not as cool...)
5. what song were the rolling stones playing when african-american meredith hunter was killed at altamont?
have a great weekend!
smell ya later!
todd