okay...
certainly i have used this blog in the past to voice my feelings regarding tv and the networks. i love tv--always have--and love, not only the shows that have thrilled and entertained me my entire life, but also have had a warm spot for the actual networks themselves, the ephemeral atmosphere of home that each one seems to project. i love the history of television and have studied it fanatically. and while i'm generally a pretty upbeat and positive person and endeavor to keep this blog from becoming a soapbox for my own personal gripes--man, do the networks hate us or what...?
over the past five years or so (probably more on the "or so" side...), the networks have totally cut the viewers out of the equation. the viewer means absolutely nothing anymore. they focus now on the sponsors and, while i certainly understand the necessity of revenue, i feel that, as their supposed audience, we should have
some
voice. they continue to gauge their industry on an outdated and antiquated system. they cancel clever, well-written, and incredibly promising shows (
pushing daisies, life, journeyman, my own worst enemy
...and let's not forget
firefly
and
wonderfalls
and then report astonishment when those very series' show four and fives the projected numbers in dvd sales. they battle with the writers for, in the scheme of things, a ridiculously small amount for actually
creating
and developing the very programs that are keeping them on the air. and then they rob the viewers by charging them full price for truncated seasons on the dvd package. much like our current government, they cater to the sponsors and special interest group and have left us in their wake.
just as with my representatives in washington, the networks have abandoned me.
it's all about money and sponsors ands commercials and i'm sick and tired and i'm not gonna take it anymore.
oh, sure, i'll never be able to turn it off completely. not yet, anyway.
i still want to see how
lost
ends, still need the laughs on nbc's thursday night line-up, still need my
snl
...
but, i'm reading more.
i'm cutting way back on tv. someone said a little while back that only way that we could change things in government would be to come together and simply vote all of the incumbents out. send a message. sure, maybe it would screw things up for a while, but aren't things pretty screwed up now?
same with tv. i'm leaving. i'm turning it off.
back in the mid- to late-80s the networks were terrified because they just couldn't get any viewers. they were panicking, desperate. (book sales, by the way, were way up back then...) somehow they came back, with good entertainment and clever shows--and, they proudly proclaimed at the time, by listening to the viewer.
i'm reading more.
that's one place that they can't get us.
yet.
~~~~~~~~~~~~~~~~~~~~~~~~~~~~~~~~
man, after that rant, i hope lauren doesn't get upset that i'm plugging her book in the same post...
okay, shake it off, folks! here's something positive...
with the holidays and work and all kindsa other things coming up, i wasn't able to really sit down and read--well, re-read--the wonderful jaunt which is
the slightly askew adventures of inspector ham and eggs
by our good friends stephen lindsay and lauren monardo until just this past weekend! lauren was kind enough to send me a copy of the collected trade a few weeks ago and i wanted desperately to show you all and sing it's praises 'cause i really dug when i first read it in comic book form but
loved
it when i sat down with the whole package! you will too!
plus, the trade is filled with all kindsa cool extras--guest pin-ups, a much too enthusiastic afterword by bryan glass of mouse guard fame (but, of course, bryan does
everything
much too enthusiastically! : ) a much too short afterword by me--and one of my favorite features is a transcription of the conversation stephen and lauren had in creating ham and eggs and the baron and all the other colorful characters that inhabit new pork city. this unique insight into their creative process is both fun and totally cool! you won't want to miss it!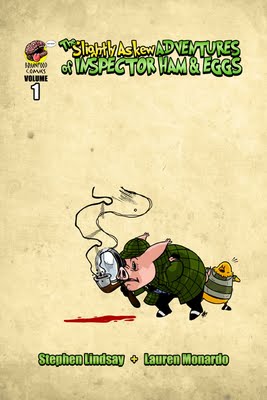 so if you didn't get the series or are one of those 'wait til the trade' readers, go check it out at
http://images.google.com/imgres?imgurl=http://www.indyplanet.com/store/images/comics/1751_36232A.jpg&imgrefurl=http://www.indyplanet.com/store/index.php%3FcPath%3D52%26%26page%3D5&usg=___O6k-MAxQyZRY6tluD7BLa9LXZM=&h=337&w=225&sz=15&hl=en&start=14&sig2=fhbpU3-A6eMeoJLuj5zzog&um=1&tbnid=fXooHwSbngrO9M:&tbnh=119&tbnw=79&prev=/images%3Fq%3Dinspector%2Bham%2Band%2Beggs%26hl%3Den%26client%3Dsafari%26rls%3Den%26sa%3DN%26um%3D1&ei=eKddS9HVL5HhlAe8u-iMCg
~~~~~~~~~~~~~~~~~~~~~~~~~~~~~~~~
the answers to your
"five for friday"
back-up bands
i think i did this once before--or maybe just had one or two mixed in to a general group of five--but here are the names of some back-up bands for you to provide the headliner...
have fun!
1. the heartbreakers
tom petty
2. the attractions
elvis costello
3. the blue notes
harold melvin
4. the comets
bill haley
5. the crickets
buddy holly
6. the jordanaires
elvis presley
7. the j.b.s
james brown
8. the range
bruce hornsby
9. the black hearts
joan jett
10. the revolution
prince
have a happy monday!
smell ya later!
todd