okay...
back to the sketchbook...
when i handed fred the book at volleyball one night, i told him, "just a little something, a doodle, don't go crazy." we had been playing volleyball every week for a year or so by then and had become good friends. and fred is such a nice guy...
when he handed it back to me the following week, i thought the picture that he did--of his own comic book persona--was perfect! just what i wanted! i didn't realize at first that that was just the first page...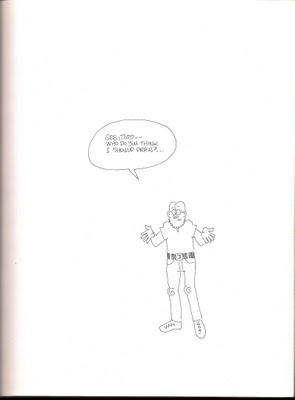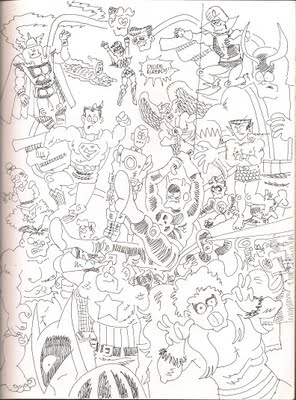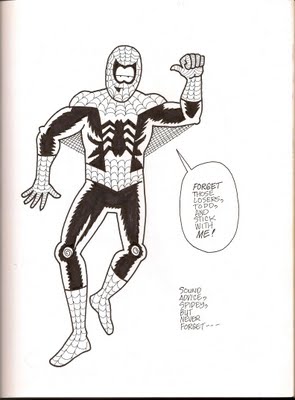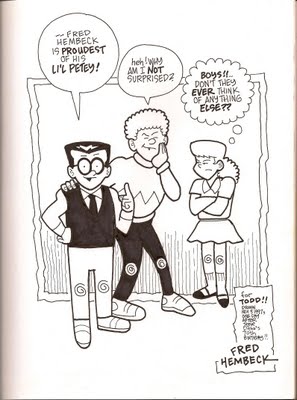 so i'm jumping around a bit, not really doing these in the order that they appear in the book, just to mix it up a bit...
i met dick giordano at heroescon in 1999. cully introduced us and acted as interpreter a bit, initially, as dick's hearing was probably a little more than half gone at the time. i had, of course, loved his work for years, and told him so, and he was curious and excited to know what
i
did (sensational spider-man at the time, so...) i got up to speed quickly and asked him for a sketch, which he very graciously did, as we yelled through a pleasant, but loud, conversation. it didn't help that we were in the basement of a loud and poorly lit bar.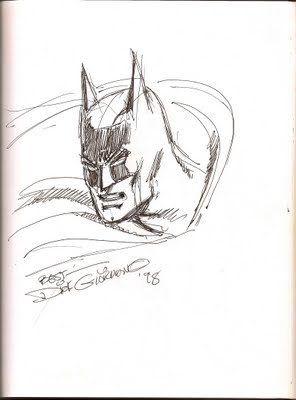 ~~~~~~~~~~~~~~~~~~~~~~~~~~~
and here are
"five for friday!"
1. in the original
superman
, what supertramp song is playing on the radio when lois gets swallowed by the san andreas fault?
2. what popular postman plays the role of a nuclear rocket technician?
3. lex luthor hijacks two nuclear missiles so as to make the man of steel choose. one is targeting the san andreas...where is the other one headed?
4. in tim burton's
batman
, what was the name of the joker's main henchman played by the inimitable tracy walters?
5. along with danny elfman, what 80s rock icon contributed music to the film?
bonus question; what 80s frenetic new wave band did danny elfman head up?
have a great weekend!
smell ya later~!
todd