okay...
man, things are really happening behind the scenes here at perhapanauts central, stuff that i haven't had a chance to mention due to everything that was going on with the convention and whatnot.
we have some crazy cool friends working on some crazy cool back-ups stories and it looks like our october issue is shaping up to be a very promising halloween issue! i hate to be the type to kinda drop a bomb like that and then not name names, but i don't wanna jinx anything that hasn't been finalized or confirmed, y'know...? i will names
SOME
names though and they are;
--our pals and brothers, matt wieringo and christian leaf, will be working on a back up story for us shortly--
--jamar nicholas, creator of the online phenomenon, detective boogaloo, will be contributing one of our halloween stories--
--jason armstrong from ferro city and lobster johnson will also be featured in the halloween extravaganza--
(actually, jason has already finished a story fro us that will appear in the very next issue! don't miss!)
--our own scott weinstein is currently plotting out his own haps back up!--
--good pal, roger ash, is in the midst of negotiating an awesome cover by and awesome comics legend! and i don't wanna jinx it yet...--
--and our buddy, john higashi, is also working on another big name artist to do a cover for our little book and again...--
--jason copland, who gave us a gorgeous pin-up at heroes which will appear in issue 4, will also be lending his artistic talents to something fun for us in the future!--
okay, maybe not a lot of names, but now you know that we are working on some really great things for you and for future issues of the all-new, all-different perhapanauts!
~~~~~~~~~~~~~~~~~~~~~~~~~~~~~~~~~
and now back to some of the strange, creepy stuff i love so much...
(and i hope you do too...!)
RUSSIAN SOLDIERS FIND STRANGE CREATURE ON SAKHALIN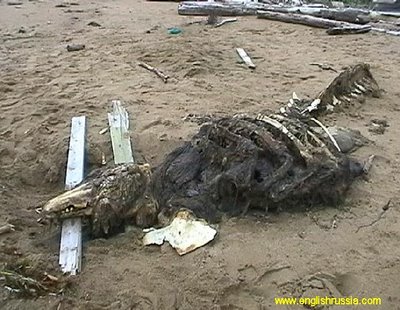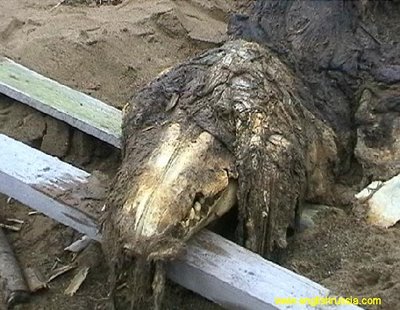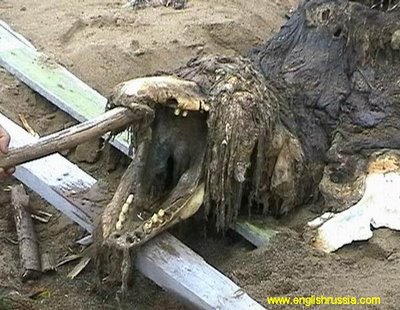 This creature was found by Russian soldiers on Sakhalin shoreline. Sakhalin area is situated near to Japan, it's the most eastern part of Russia, almost 5000 miles to East from Moscow (Russia is huge). People don't know what is it. According to the bones and teeth - it is not a fish. According to its skeleton - it's not a crocodile or alligator. It has a skin with hair or fur. It has been said that it was taken by Russian special services for in-depth studies, and we are lucky that people who encountered it first made those photos before it was brought away.
~~~~~~~~~~~~~~~~~~~~~~~~~~~~~~~~~~~~
this is a good one from our friends over a
paranormal@about.com
(i like to read these late at night in the dark...)
Your True Tales
May 2008
Hopping Creature
by Danette
This occurred at approximately 11:00 p.m. on March 1, 2008. I had just turned out the lights to hit the sack. My border collie-Australian shepherd started barking. I thought maybe it was a raccoon or skunk in my backyard. I have 30 ducks, three hens, a goat, all in my back yard. So the ducks were quacking, too.
When I went to the living room and flipped on the outside deck light. I looked first back where my ducks were and all of a sudden there stood a strange creature on my second step coming up to the deck. My dog was going crazy and looking in the direction where it stood about four feet away. I stared at it, trying to make out what it was. It stared back at me as well. It had black eyes a real skinny face and it looked very old. It had black and silver long hair going down its back and I couldn't see the legs. It looked like a creature. Then after it stared at me for about 30 seconds, it moved back and it leapt backwards, like a kangaroo. The whole time it was looking at me as it hopped over to my northern fence. It then disappeared.
It did not frighten me, but I did not go outside because I didn't know what the heck it was. When it hopped backward starring at me, it seemed more like it was an intelligent being. Most animals run when you see them. It seemed like it was trying to watch out for itself. It didn't let you see its backside. I live in Gardnerville, Nevada.
that one creeped me out.
~~~~~~~~~~~~~~~~~~~~~~~~~~~~~~~~~~~~~~
and that's all for today!
have a great day!
smell ya later!
todd