okay...
finally, after a few extra weeks of waiting--and we thank you so very much for your concern and patience--THIS is the week that the all-new, all-different PERHAPANAUTS #3 will finally hit the stands!
now we know that many of you loyal perhapa-fans are already lined up and camping outside your local comic book shops--we've seen the human interest pieces on the news. and thanks! that's some great publicity!!--and we also know that many of you across the country are hosting perhapa-parties with your friends for the big reading on wednesday night (because so many of you have so very kindly included craig and i on your guest lists and, as we've said, we must regretfully decline as we are contractually obligated to attend the red carpet premiere in new york where the book will loom large on the imax screen with dramatized readings by bruce willis, david morse, rosario dawson, rachel mcadams, matthew mahar, bill murray, rachael harris, and others.) and, of course, there will be the youtube animations mere hours after the book hits the stands. (i just don't know how they do this so fast...!!)
okay, so maybe i've built it up in my mind a little bit. i'm a dreamer, what can i say...?
well, i
can
say that you better not miss it. and that if you haven't already reserved your copy, you oughta call up your lcbs right now and let 'em know you want one! i
can
say that it's all but
busting
at the seams with story and gorgeous artwork by not one, not two, but
three
fantastic artists!
craig
, of course, does his usual brilliant job on the main story entitled "big secrets"! animating legend and all around fun guy,
tad stones
(darkwing duck, buzz lightyear of star command, and the awesome hellboy animateds)
brings "choopie and the gremlins" to crazy, frenetic life! and our good pal and new dad,
kelly yates
(creator of image's upcoming blockbuster,
amber atoms
!)
did a stunningly beautiful job on the romance called "the merrow's tale"!
the colors on "big secrets" and "choopie and the gremlins" are gorgeously attended to by our own
rico renzi
, while the lush colors on "the merrow's tale" were lushly laid down by
dean trippe
and
jason horn
!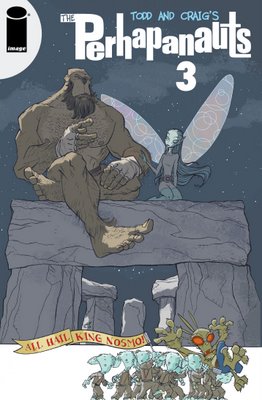 and this issue begins our new "flip cover" format--now each issue will include two (2) covers--one on each side! now instead of having to pay twice for the same book with a variant cover, you get them BOTH for the same price!
this issue features the one above by the craig...
and this one here by the incomparable tad stones!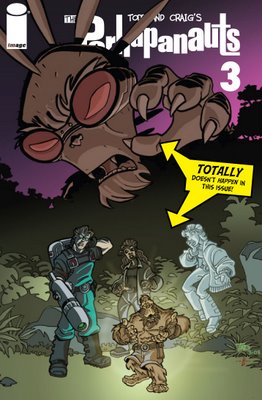 so you know what to look for--go get 'em!!
~~~~~~~~~~~~~~~~~~~~~~~~~~~~~~~~
sharon and i went hiking way up in the catskills on saturday with my friend, don, my old volleyball and hiking buddy. had a great time and didn't do anything too arduous--we thought we'd start on one of the more moderate hikes this first time out--and it was just great to get outside. i've been lately thinking that the winter's have gotten longer and that the summer's move way too fast and so am now doing everything i can to take advantage of the summer and see if i can drag it out and make it last longer! yeah!
sunday, shay and i did a double feature and caught
wanted
and
hancock
back to back! though people have been pointing out plot holes in both, i just loved them--pure escapist, popcorn movie fun! it was an afternoon of total adrenaline rush, thrill ride and we ate it up!
~~~~~~~~~~~~~~~~~~~~~~~~~~~~~~~
well, i got
work to do so
here are the
answers to your
"five for friday"
1. what master of the macabre was the host of tv's
thriller
?
boris karloff
2. what master of the macabre did the voiceover for michael jackson's
thriller
?
vincent price
3. what famous early 80's song, used in a movie, was originally intended as the theme to a horror film?
"maniac" (from the motion picture,
flashdance
) by michael sembello
4. what non-musical tv show became mtv's #1 show in 1993?
beavis and butthead
5. who used these aliases?
a. "mark twain"
samuel l. clemens
b. "regina falange"
phoebe buffay (lisa kudrow)
friends
c. "richard bachman"
stephen king
d. "el kabong"
quick draw mcgraw
e. "anastasia beaverhausen"
karen walker (megan mullally)
will and grace

*************bonus question****************
what does the 'l." stand for in samuel l. clemens?
*********************************************
smell ya later!
todd