okay...
as you may have already heard, what you now hold in your hands is my 700th post here on the world-famous perhapa-blog!
700 is a lot.
in honor of
a lot
, i thought i'd blow-out the sketchbook and show you some of the other awesome pieces i've gathered over the years--hope you dig 'em!
my pal joe staton kept asking me what i wanted him to draw and i kept telling him whatever he wanted to draw and he said no this is your book and i said yeah but you''re gonna draw in it for me for free and so it should be whatever you want to draw and so he took the book and went away mad.
he came back a week later with this gorgeous piece. he said he knew i loved the joker--and was somewhat inspired by terry's pages earlier--and while drawing decided that it should be a battle of the pointy chins so he brought in dick tracy with his sharply chiseled features to go up against the animated clown prince of crime! i love it! (joe's one regret was that his blue marker on the joker's face was running out and he couldn't get it to do anything...)
still, freakin' awesome!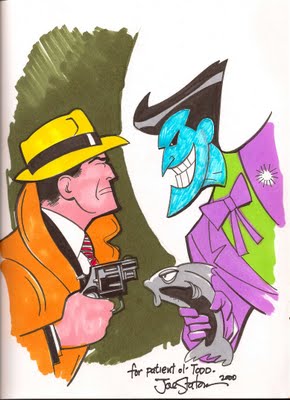 death by steve epting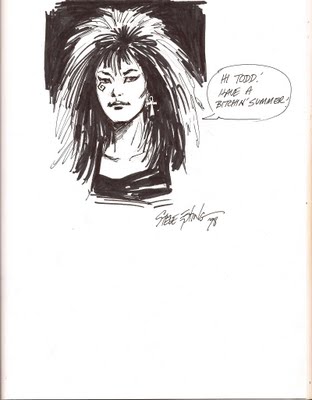 superman by my gorilla brother, stuart immonen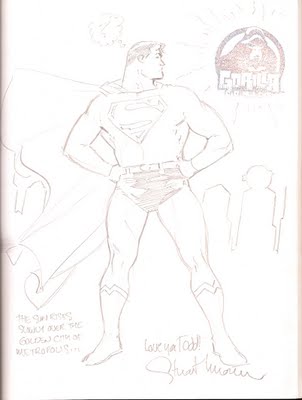 solomon by my pal, chris sprouse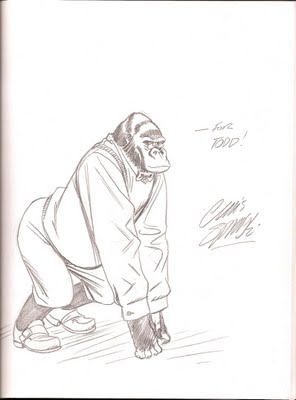 an early amber atoms by kelly yates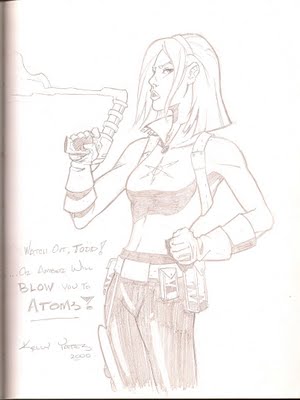 superman by cully hamner
(cully says he hates this, but i think it's so cool--i love to see the construction! in cul's defense though he
did
draw this for me in the same dark basement at the bar where dick giordano drew that great batman for me...!) i dig it!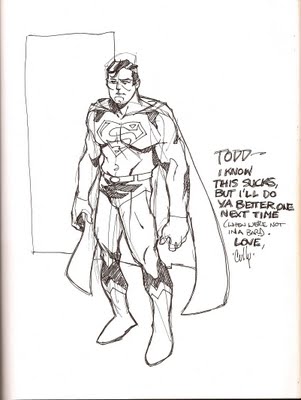 the third member of our
sensational spider-man
power trio, rich case and mike shared a studio at artamus and so it was really just a matter of turning around and passing the pages over to him. rich's own creator-owned character was annie ammo and he had an incredible saga planned for her, complete with a survival guide and designs for all sorts of amazing tools and weapons and devices! knowing from personal experience, i am well aware of how much time and energy goes into a creator-owned project and how easily family, life, and work can keep you from it. i hope rich revisits that world of annie ammo at some point--it was some amazing stuff!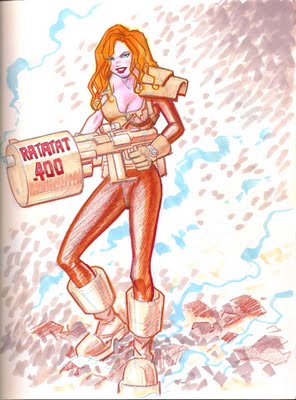 another studio mate of mike and rich's was chuck wojtkiewicz (yeah, i always have to look it up too...) who i always enjoyed chatting with for a bit when i'd call down to mike. when i asked chuck if he'd do a sketch toward the end of one heroescon or another, he asked if he could hang onto it for a while and do it in his spare time. i said sure and that was that. and he kept telling me, oh yeah, i'll get to it, i'll get to it...for about eight months or so.
maybe feeling a little guilty or whatever, when i did get the book back, chuck had created this masterpiece on the cover and blew us all away!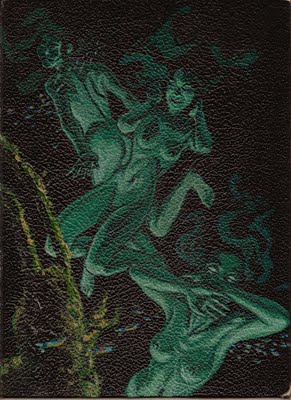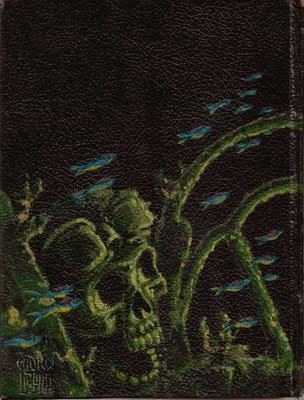 stunning!
thanks for taking so long, chuck!
that's it!
that's post no.700!
thanks so much to everyone here in our little perhapa-family--
for your enthusiasm and comments and support!
we have more perhapanauts goodness coming your way
--maybe sooner than later--
and hope you'll stick around for 700 more posts!
have a great weekend and
see ya here monday for 701!
smell ya later!
todd