okay...
after all that talk about the hulk last week--and thank you very much to those of you who told me that they woulda liked to've seen my take on the hulk--i realized that i'm having some great fun with the hulk
right now!

well, not THE hulk...but the marvel super hero squad version has been providing me with a lot of laughs lately!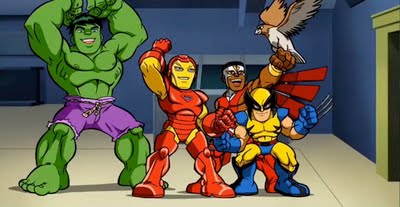 not the classic, raging, rampaging, monstrous horrific, never-know-what-he-might-do hulk--i would still like to get my hands on
that
guy--but the funny, always-hungry, slow-on-the-uptake, big green comic relief hulk that is usually the one with the punchline at the end of the story. i'm having big fun with these guys and the hulk most of all!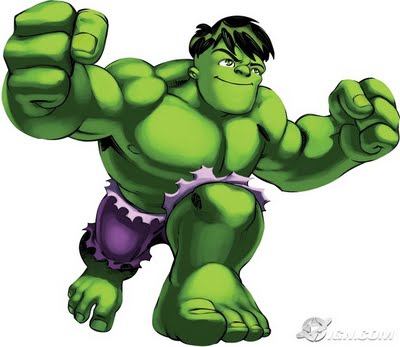 in the super hero squad, hulk is the "joey". call it
slow
--in this case some might even say
mentally challenged
--he's the innocent in the group that sees things with different eyes and his remarks and actions are sometimes hilarious because of that. choopie can be that way, and impulse was cut from that same cloth. but they are three very different flavors of that unique characteristic. impulse, though at times somewhat mischievous, was pure at heart and though in his actions he always leapt before he looked, there was a kindness and compassion behind everything he did. choopie is the exact opposite; egocentric and still retaining a malicious mean streak (that we write off to the
animal
still buried not-so-deeply within), choopie's moment(s) of caring is a rare occasion indeed. with the super hero squad hulk, we have innocence combined with incredible power. hulk is a child and not immune to tantrums. he busts things, he breaks things, he loses patience and "hulk smash!" he acts and reacts with powerful consequences and, in a cartoon world, that's a recipe for funny!
or at least i hope so.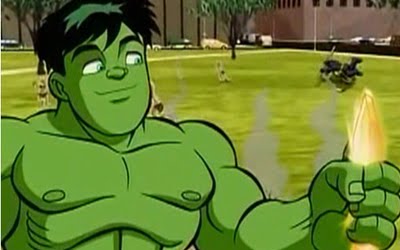 i'm having fun on this book and i hope that, if you haven't already, you might swing by and check it out.
~~~~~~~~~~~~~~~~~~~~~~~~~~~~~~~~
and just 'cause i been goin' all old school marvel in some of my reading lately...
here's the big match-up that i never get tired of...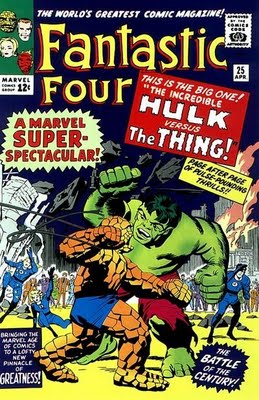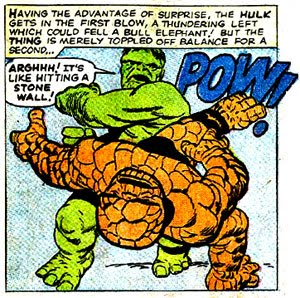 have a great monday!
smell ya later!
todd
this is post no.698.