okay...
as i mentioned yesterday, with things really gearing up with the perhapanauts and a summer full of convention schedules and outside projects ahead, i'm looking to hedge my bets a little in regards to this blog.
it's been very important to me to make sure that i get a new post up here on the blog every monday, wednesday, and friday, and i've done a pretty good job of it for the past year or so. our little group here--our community, family, of "perhapa-pals", has come to mean a lot to me. it thrills me that you stop by here to read this on a regular basis and it means even more when you take the time to comment and join in and be a part of the gang! when a little dialogue or even a group discussion appears in the comments section--that's just too cool...!
so, what to do with so much suddenly on my plate and less time to blog...? well, with a wonderfully witty and creative family like this, the answer is obvious...
special guest blogs!!
we've had them here before--my good pal, scott weinstein, has graciously covered for me from time to time
(with some well-researched and beautifully written posts that put me to shame, i might add...)
. both alison and brian have written their own perhapanauts stories/comics that have been featured here on the blog. and many of you have shared accounts of your own strange and unexplained experiences...
so i'm putting the call out to anyone and everyone within the sound of my voice! what do you think? got a subject you'd like to cover? a story you'd like to tell? a discussion you'd like to get started?
send 'em in! let me know! you too could be a guest blogger here on the world-famous perhapa-blog!
my only request is that we keep them to our usual topics; the paranormal, the unexplained, the just plain weird. comics, movies, tv, books! anything and everything having to do with pop-culture! got a funny or scary story you'd like to tell? a news report that you think the group would find fascinating? wanna try your hand at creating your own "five for friday"? try it! i guarantee you'll have fun!
also, and most importantly, you'll be helping me out, giving me a bit of a break while we work to get the perhapanauts together each month...
if you're interested,please let me know!
you can 'e' me at
todd@perhapanauts.com
thanks!
~~~~~~~~~~~~~~~~~~~~~~~~~~~~~~
so, here's something that freaked me out...
bizarre deaths always freak me out. i don't know why they should freak me out any more than a "regular" death...i mean, when it's your time, it's your time, right?. not to be too morbid or anything (and maybe i've already crossed that line...), but the subject of dying thoughts has always fascinated me. in a "natural" death, the process can be slow and the person have time to ease into that final sleep or, depending on what you believe, into the next, new experience. i guess we all kinda hope for that.
with a sudden death or accidental death, a person isn't afforded that opportunity. we have no time to get used to the idea (
and, yes, many paranormal investigators believe that ghosts are, in most cases, the spirits of people who don't yet know that they're dead)
but a bizarre death...
when a person is killed in such a strange, freak accident...
late last night, while checking my e-mails, i checked out yahoo's most e-mailed pictures, always an interesting place for photos. the first seven were of this--an eagle ray--a larger member of the ray family--that had flipped itself up into a boat and stab a woman with it's barb, killing her.
my condolences to the family, of course. how very sad. this is truly a tragedy.
but a bizarre tragedy.
i mean, really, what do you think? did that just happen? did i just get stabbed by a manta ray? did that thing just sail out of the water and kill me?
until steve irwin's very similar death, i didn't even know this was possible...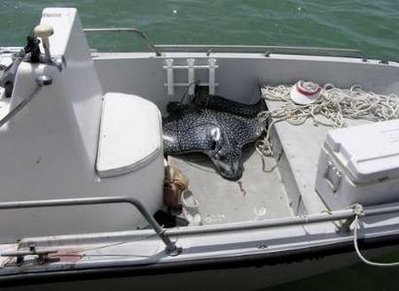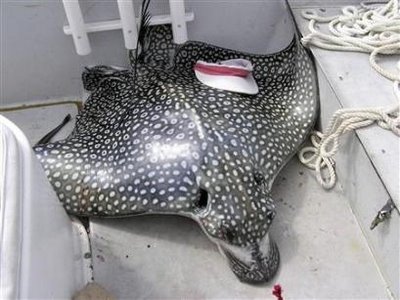 ~~~~~~~~~~~~~~~~~~~~~~~~~~~~~~~
some really great perhapanauts pictures are still being posted over on the perhapanauts forums!! click the forum link above and check them out in the thread entitled "how about a drawing jam?"
here are a couple more...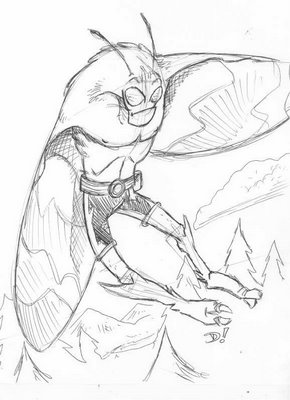 don kelly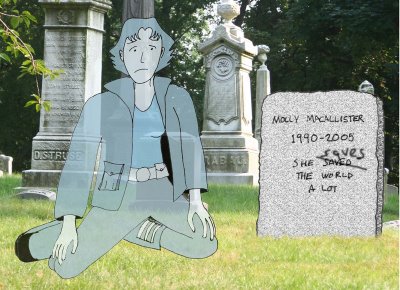 scott weinstein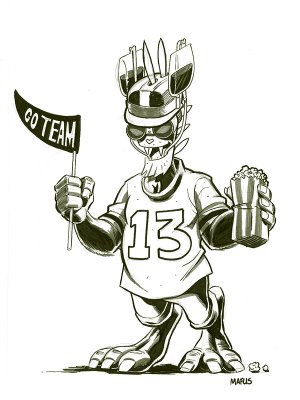 matt wieringo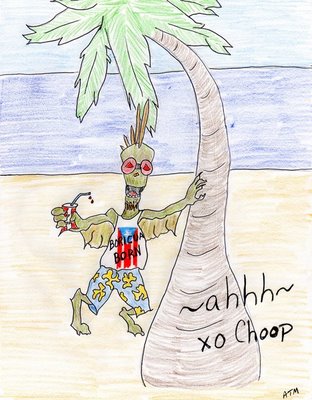 alison martin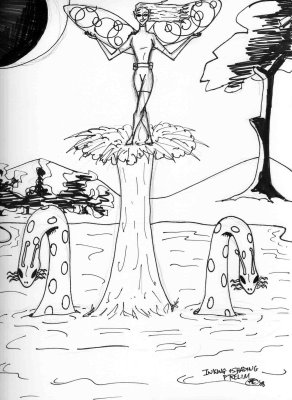 mike estelle
~~~~~~~~~~~~~~~~~~~~~~~~~~~
before you go and have a great weekend,
thinking about what cool guest blog you're gonna do,
here are your
"five for friday"
1. what academy award winning actor was originally chosen to play mike brady on
the brady bunch
?
2. what academy award winning actor was the original choice to play hannibal lector in
the silence of the lambs
?
3. what academy award winning actor currently provides the voice-over for lowe's home centers?
4. what academy award winning actor was dustin hoffman's roommate for several years while studying acting in nyc?
5. name the following dr. seuss books
a. a persistent salesman tries to persuade a resistant gentleman to eat a colorful breakfast
b. a boy considers a huge parade in his tiny town
c. an enormous elephant finds himself playing mother to a very special package
d. a boy removes his hat for the passing king...only to find an inexhaustible number of chapeaus underneath
e. a boy ponders what he could catch if his little fishing hole were secretly connected to the ocean.
that's it!
have a great weekend!
todd