okay...
well, i need to be quick today.
as we put the finishing touches on issue 1 of the all-new, all-different (i'm still reading my uncanny x-men omnibus) PERHAPANAUTS, we find that there WILL be more art in many ways!
first off, art adams has okayed us showing y'all his sweet sketch/designs that he did in preparation for his stunning cover! i always find it both fascinating and amazing to get a chance to see the thought process and the creativity and the magic that goes on in sketches and such. these look cool.
also, since we have so many extra pages that we're allowed to fill--and craig and i really wanna make sure you get your money's worth ut of every issue of the perhapanauts--we'll be featuring some sweet perhapanauts pin-ups and back-up stories in every issue featuring some of our very talented friends from in and out of comics! our first issue boasts a fun two pager by our pal, dave tata, called "choopie goes to church." don't miss it!
we've got lots of bonus stories and features planned for this book and i promise you won't be disappointed!
~~~~~~~~~~~~~~~~~~~~~~~~~~~~~~~~~~~~~~~~
our call for artists has already gotten some people revved up over on the perhapanauts forum; some of us are setting a deadline for ourselves (no pressure!) to keep ourselves honest and on schedule. feel free to stop on over and add your name to the growing list! it's fun!
our first piece sent in, our own rene carrol 'e'd me her "choopie doodle"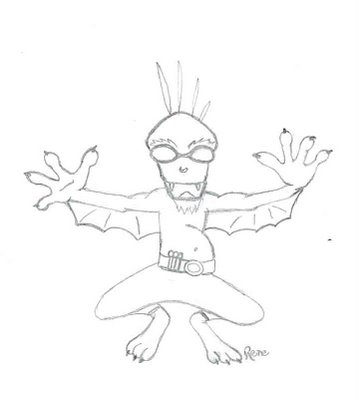 great job, rene! thanks so much for the great sketch--and for breaking the ice! now EVERYBODY can start sending their pics in...!
~~~~~~~~~~~~~~~~~~~~~~~~~~~~~~~~~~~~~~~~
in the comments to the last post, alison asked who had drawn the pieces i posted. my apologies for not including those names. i'd intended to--the blog just got away from me.
they are
mark zanini--arisa, mg, big, and the dover demon in the study
don kelly--big and the serpent
philippe scherding--choopie/nosferatu
and here's another cool pic i found that our boy, brian mulcahy had done by scott wegener (currently having a blast on "atomic robot"!) to illustrate brian's 'haps story, "down in the dumps".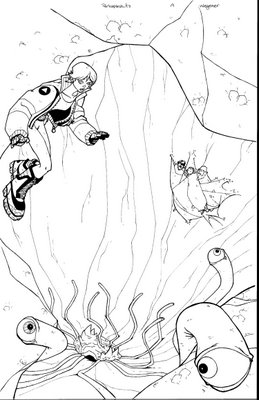 give ya some ideas? know what you're going to draw?
we can't wait to see it!
that's it for me!
smell ya later!
todd