okay...
well, as craig posted below, the full color art adams cover for perhapanauts #1 is proudly on "first look" display over at newsarama! you can check it out for yourself by going to
http://forum.newsarama.com/showthread.php?t=149218
a lot of people "oooh'd" and "aaaah'd" over the cover, and rightly so--art really outdid himself with this and i am still mesmerized by it whenever it look at it--but let's talk about rico.
rico is an amazing colorist and a very talented artist as well. we all saw the incredible detail that art put into that cover and i'm sure that, in preparing to lay down the hues, it was a little bit daunting.
over the years that we've worked together, i have been stunned again and again by rico's eye, by his color choices, and his ability to make things pop or blend things in. he and craig actually pulled off something that i didn't think was possiblein comics back in perhapanauts (first blood) #4 and then again in second chances #1 when he made the aswang's eyes actually glow and made a character truly disappear into the shadows...
i've said for years that craig is one of the most underrated artists in comics. certainly rico, too, is one of the most underrated colorists in the business and, while colorists are often overlooked in the grand scheme of things--his name was even excluded from our solicit copy--i just wanted everyone to take a look at what he does for us in each and every issue and give him the credit--and props--he properly deserves!
fantastic job, rico!
thanks for all you do!
this book would not be the same without you!
~~~~~~~~~~~~~~~~~~~~~~~~~~~~~~~~~~~~
so craig teased you with the cover to perhapanauts #3, so i guess i'd better put it up...
(i was gonna save it for monday, but...)
the solicit reads like this
The PERHAPANAUTS #3
Todd Dezago-–Story
Craig Rousseau--Pencils,
Inks, and Cover
Rico Renzi--Colors
32 Pages
FC
June 4
$3.50
"Big Secrets"
Triangle--Part 3
It is the veritable Calm before the Storm
as secrets continue to be revealed about
ALL of your favorite BEDLAM Agents!
Big and The Merrow travel to the UK to get
some answers as Choopie tries to cope with
the unseen responsibilities of being a King!
Also, The Mothmen tip to what went on back
in the Bermuda Triangle--and they are NOT pleased...!
the cover looks like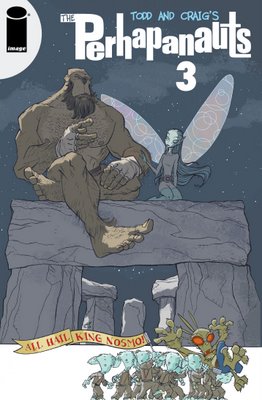 ~~~~~~~~~~~~~~~~~~~~~~~~~~~~~~~~~~~
and here are your
"five for friday"
1. what spider-man villain originally appeared as indy's guide in the classic opening to
raiders of the lost ark
?
2. who was the only actor to appear in both the film and television versions of
mash
?
3. what david bowie song is quoted at the beginning of
the breakfast club
?
4. h2o is water? what is h2o2?
5. who played the devil in each of the following films?
a.
witches of eastwick
b. l
egend
c.
angelheart
d.
needful things
e.
the devil's advocate
have a great weekend!
smell ya later!
todd