okay...
hope everyone had a very happy easter!
so--inspired a little bit by our pal, mike estelle's merrow sketch and craig's cover to PERHAPANAUTS #3, renee's daughter, lexie, sent this awesome entry into the perhapanauts drawing jam. (unable to get it to post over on the message boards, i thought it would look nice right here on the blog until i can figure out how to post it with the rest...) (as i did with my own feeble entries which can see seen down at the bottom...)
nice job, lexie! thanks so much for taking the time to draw the merrow!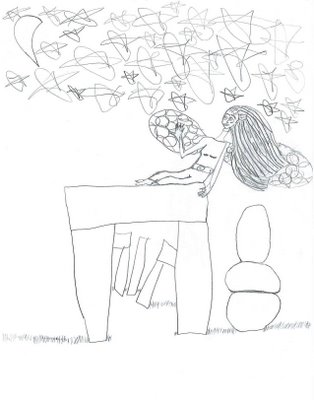 ~~~~~~~~~~~~~~~~~~~~~~~~~~~~~~~~~~
and here are the
answers to the
"five for friday"
1. what academy award winning actor was originally chosen to play mike brady on the brady bunch?
gene hackman
2. what academy award winning actor was the original choice to play hannibal lector in the silence of the lambs?
gene hackman
3. what academy award winning actor currently provides the voice-over for lowe's home centers?
gene hackman
4. what academy award winning actor was dustin hoffman's roommate for several years while studying acting in nyc?
gene hackman
5. name the following dr. seuss books
a. a persistent salesman tries to persuade a resistant gentleman to eat a colorful breakfast
green eggs and ham
b. a boy considers a huge parade in his tiny town
and to think that i saw it on mulberry street
c. an enormous elephant finds himself playing mother to a very special package
horton hatches the egg
d. a boy removes his hat for the passing king...only to find an inexhaustible number of chapeaus underneath
the 500 hats of bartholomew cubbins
e. a boy ponders what he could catch if his little fishing hole were secretly connected to the ocean.
mcelligot's pool
~~~~~~~~~~~~~~~~~~~~~~~~~~~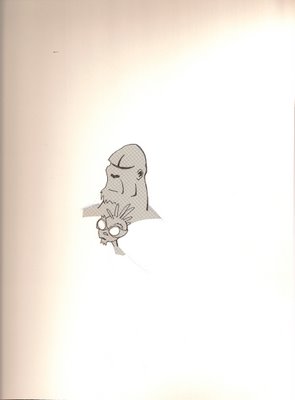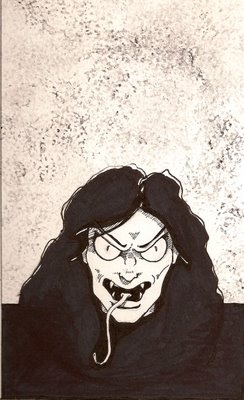 here's a little doodle i did of big and choopie, and a sketch of the aswang since nobody did her yet...!
that's all for now!
smell ya later!
todd