okay...
as i mentioned last week, craig and i are all about giving you, our faithful perhapa-fans, not
only
your money's worth in each and every issue of the all-new PERHAPANAUTS, but MORE than...!
we are painfully aware that the cover price of comics is going up all across the industry.
we are also well aware that that fact might cause some people to have to choose between some of their very favorite comics due to budgeting and such. we know because we buy comics too! we long for the days when comics were less than a dollar--heck, even a dollar would be wonderful news right now. but with the cost of everything going up--especially gas--it affects everything!
so we're doing what we can to pack every issue of the PERHAPANAUTS with as much 'nauty goodness as possible! we've been hitting up friends in and out of the business for pin-ups, lined up some STELLAR talent for our back-up stories (
i'm bustin' to tell ya, but craig says i hafta wait...@#%$!)
and, as you've already seen with the stunning art adams cover to issue #1, some incredible guest covers!
things are happening here at BEDLAM central, and i think you're gonna dig what we've been digging up!
~~~~~~~~~~~~~~~~~~~~~~~~~~~~~~~~~~~~~
things were flying so fast when we were trying to decide on a cover for the annual--craig, and our pal, dana moreshead, and i were throwin' all kindsa idea back and forth (well, mostly them...). but i thought it would be cool to show you one of craig's earlier takes on the cover so you could see how things evolve and take shape with something like this...
enjoy!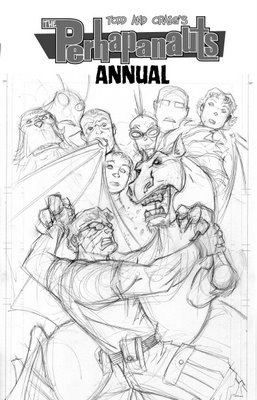 ~~~~~~~~~~~~~~~~~~~~~~~~~~~~~~~~~~~~~~
and here are the answers to your
"five for friday"
1. what spider-man villain originally appeared as indy's guide in the classic opening to raiders of the lost ark?
alfred molina (doctor octopus)
2. who was the only actor to appear in both the film and television versions of mash?
gary burghoff--radar o'reilly
of note: gary's left hand was noticeably smaller than his right, and the actor would often be seen carrying a clipboard or something so as not to attract attention to it.
3. what david bowie song is quoted at the beginning of the breakfast club?
changes
"and these children that you spit on as they
try to change their world
are immune to your consultations
they quite aware what they're going through"
4. h2o is water? what is h2o2?
hydrogen peroxide
5. who played the devil in each of the following films?
a. witches of eastwick
jack nicholson
b. legend
tim curry
c. angelheart
robert deniro
d. needful things
max von sydow
e. the devil's advocate
al pacino
have a great day!
smell ya wednesday!
todd