okay...
so as craig and i continue to recuperate from the weekend in seattle, here are a few quick ITEMS like they used to run on the Mighty Marvel Pages back in the old days...
~~~~~~~~~~~~~~~~~~~~~~~~~~~~~~~~~
ITEM: returning home from our whirlwind trip to the pacific northwest, craig and i were greeted by our very own copies of PERHAPANAUTS 2! it's always nice to finally hold in your hands something that you worked months on, but issue 2 is even better 'cause it's just filled with cool extras by some of our most talented friends! an awesome back cover by our pal, Rich Woodall (with Ken McFarlane and Matt Talbot), a pulse-pounding pin-up by Denis Medri, and a stunningly beautiful back-up story by our pal, Rich Case!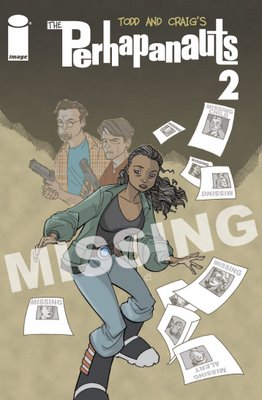 oh, also, craig and i did a little something in it too...
and the rico.
~~~~~~~~~~~~~~~~~~~~~~~~~~~~~~~~~~~~~
ITEM: on the TELLOS front--with the huge success of the TELLOS COLOSSAL Hardcover, and the subsequent high orders on the upcoming trade paperback version, Image Comics is moving ahead with a second volume, the TELLOS COLOSSAL Hardcover Vol. 2, containing all of the remaining Tellos material! the big news here, however, is that Tellos inker extraordinaire, Rob Stull, and colorist supreme, Paul Mounts have taken one of Mike's later Tellos sketches and created the gorgeous illustration for the second volume's cover! (i'd buy the book just for that cover...stunning!)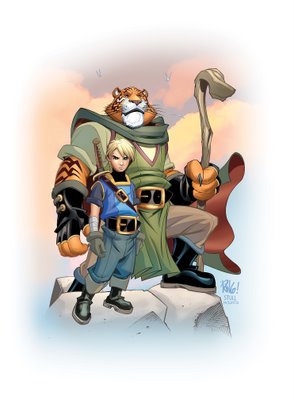 ~~~~~~~~~~~~~~~~~~~~~~~~~~~~~~~~~~~~~
ITEM: a joke
I was walking past the mental hospital the other day, and all the patients were shouting, '13...13....13...13.'
The fence was too high to see over, but I saw a little gap in the planks and looked through to see what was going on.
Some bastard poked me in the eye with a stick.
Then they all started shouting. '14...14...14...14....'.
~~~~~~~~~~~~~~~~~~~~~~~~~~~~~~~~~~~~~~~
gotta run!
smell ya later!
todd