okay...
we've had so much going on lately and i've had so much to report about conventions and t-shirts and trading cards and the flurry of activity that's been surrounding the re-launch of the PERHAPANAUTS, i realized that it's been quite a while since i posted a plain old plain old post about something fun, something that everyone can relate to...
and so here's an easy goin' post and some fun "five fors..." to take you through the weekend...
because i was raised on television, and because i owe so much to that box and the people who appeared upon it, one of my guilty pleasure goals in life is to get a chance to visit each of the tv land tribute statues in their various locations across this great country. i don't know if i've ever mentioned them before--i might have--but so far there are four such statues paying homage to andy and opie taylor from
"the andy griffith show"
in mt. airy, north carolina,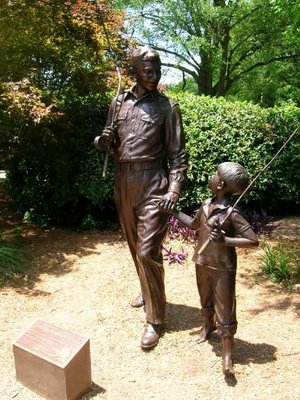 mary richards tossing her hat from the opening of "the mary tyler moore show" in minneapolis,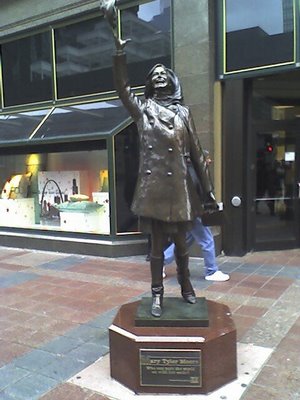 dr. bob hartley from "the bob newhart show" in chicago,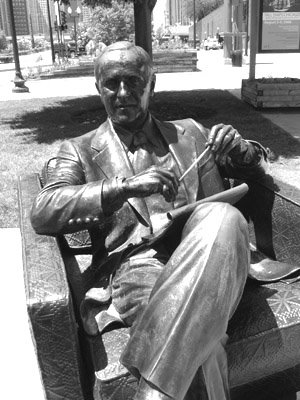 and jackie gleason as ralph kramden from "the honeymooners" at the port authority in new york city.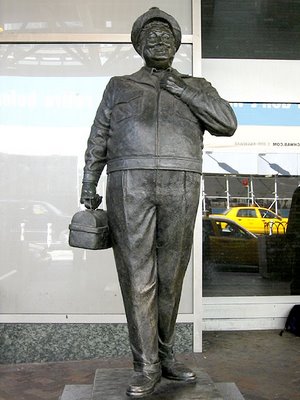 this last one i took myself, last year, when craig and kelly (upcoming perhapanauts back-up artist and our super-pal, kelly yates!!) and i were making the trek from our hotel to the javitz in nyc. so i've only got three more to see...although i hope they make more!
so...
hoping that the DO make more, who would you pick? what classic tv character or characters do you think should be immortalized in bronze?
lemme know...
and here are your
"five for friday"
1. why wasn't the andy griffith statue placed in mayberry?
2. who were the first television couple to be seen sleeping in the same bed?
3. who started out as a writer for the smothers brothers before breaking out as a stand up legend in the '70's?
4. in 1968, what movie pre-empted the last 50 seconds of the jets-raiders game?
5. match the song with the television show
a. those were the days
b. suzanne
c. the fishing hole
d. i'll be there for you
e. tossed salads and scrambled eggs
f. where everybody knows your name
g. love is all around
h. you're my greatest love
1. frasier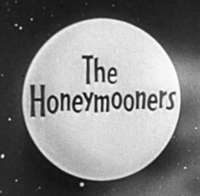 2. the honeymooners
3. the andy griffith show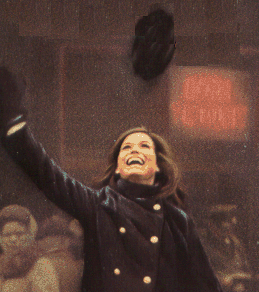 4. mary tyler moore
5. all in the family
6. cheers
7. friends
8. taxi
have a great weekend!
smell ya later!
todd