okay...
SPOILER! SPOILER! SPOILER! SPOILER! SPOILER!
just wanted to let you know up here that i've posted the first three pages of the 6-page back-up story
"Choopie and the Gremlins"
--with art by the incomparable TAD STONES!--below as a teaser for issue 3 (out today, if you hadn't heard...)
if you'd rather not see them, don't go all the way to the bottom.
the rest of this is cool.
~~~~~~~~~~~~~~~~~~~~~~~~~~~~~~~~
this is the bulletin i posted on myspace to remind folks that Perhapanauts 3 will be in stores TODAY!
"...The Perhapanauts is a breath of fresh air..."
~~some guy who emailed me
"...I had been a fan of Craig Rousseau's artwork on Impulse and Batman Beyond, but the things he does with these, his own characters, is nothing short of amazing!"
~~some other guy who emailed me
"...You don't know it yet, but the Perhapanauts is the comic book you've been looking for."
~~not the same guy but the one from before, who said the thing about the fresh air...? that guy.
PERHAPANAUTS 3
3 great stories!
3 fantastic artists!
1 desperate writer!
Pick one up today!
You won't regret it!
~~~~~~~~~~~~~~~~~~~~~~~~~~~~~~~~
so, i was reading through the
your true tales
selections over at paranormal at about.com and this one struck me as creepy. (a good way to determine that is if the story sticks with you, stays in your mind when the lights go out before you go to sleep...) i liked it so i thought i'd share. i also had found this great, unrelated photo and thought the two together would be sorta cool. you tell me.
Your True Tales
July 2008
Shadowy Visitor
by Lisa
This is one of several unexplained paranormal phenomena that has happened to me. This one in particular happened in March a few years ago. I live in the Western New York area outside of Buffalo with my husband and three children.
I awoke one night and believed I saw one of my children standing at the foot of my bed. I asked him, "Who's up?" I thought it was one of my children because it was a small human shape, but it seemed to glow a little bit greenish all around its form. Usually when my kids come to my room in the middle of the night, they come to my side and wake me up. I sort of blinked because whoever it was didn't answer me, so I began to sit up... and simultaneously the small figure disappeared and the bedroom door to my middle son's room slammed shut. There was no way in that split second anyone could have made it down the hallway and slammed that door.
We live in an older house built in 1918 and the doors are quite heavy. The windows were shut, there was no air moving that could have made that door slam either and my son always sleeps with his door wide open. He would not have shut it. I got up to check on everyone, especially to see if any of the kids were awake. When I went to my son's room, the door was indeed shut and he was sound asleep, as were his siblings in their rooms.
I don't know who that was visiting me in my room that night and I don't know how that door slammed shut that night. I believe it was my shadowy little friend. I don't know who it could have been, spirit wise, what it was or what it really wanted from me. But I really didn't like that it seemed to have gone into my son's room as he was sleeping too.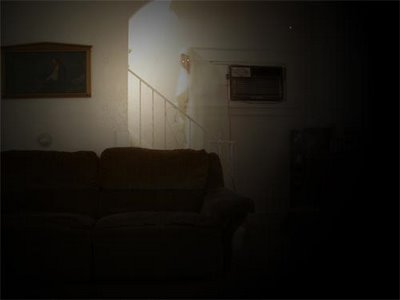 randall martin
~~~~~~~~~~~~~~~~~~~~~~~~~~~~~~~~
perhapanauts "mystery" link
http://www.koreus.com/video/telephone-portable-mais-popcorn.html
funny or scary? you decide...
~~~~~~~~~~~~~~~~~~~~~~~~~~~~~~~~
that's it for me!
your exclusive first glance sneek peek preview awaits below...
smell ya later!
todd
and here, as a small sampler of what's to come, are the first three pages of "Choopie and the Gremlins" by tad stones and me. colors by blake wilkie.
enjoy!