okay...
we had a fantabulous time in baltimore and, as always, it was great to see and meet so many long-time readers and brand new fans! i can't tell you how many people came up to the table and bought the entire image run!!! that's super-cool and i really, really, REALLY hope that--if you were one of those and are stopping by the blog to see what we have to say here--that you'll log in and join our little on-line family here! we'd love to hear what you think of the book...and all the other crazy things we talk about each week!
welcome to bedlam!
i'll give some more details about the weekend tomorrow, but for today i thought i'd just drop in a few of the pictures of some of the awesome costumes that were on display at the show! i love costumes and wish i hadn't missed a few that went by the table so fast--did anyone get a good shot of plaid superman...?
here we go--thanks to everyone who took the time to dress up as their favorite hero or villain or stormtrooper or whatever! cully tells me i gotta get down to dragoncon in atlanta some year and see the costumery there, but this year i think baltimore had some really great offerings!
this is matt miller who came up to the table in this down-to-the-belt-buckle mal outfit from firefly. i dig all over anything firefly! i had to take about three pictures 'cause people kept walking through the shot!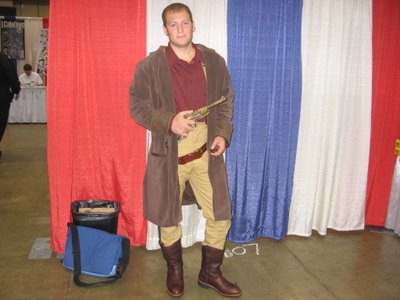 i fell in love with this dark mary marvel--who
doesn't
love mary marvel...?! bill? : )--the sad part is that, in this pose, you can't see the awesome built-in/continuous gloves that made the costume so cool! thanks, kat!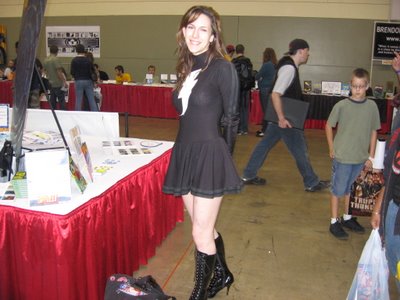 the riddler and the sandman! great costumes!
(man, that gas mask musta been hot...!)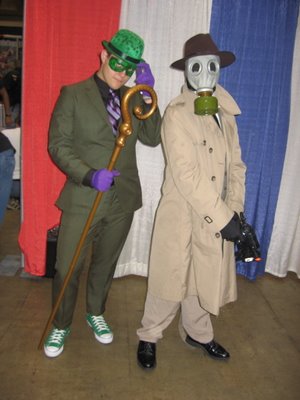 i sent sharon out to get this pic of wonder woman and marvel zombie spider-man!
(she claimed that she didn't know how to work the camera, but you did just fine, shay...)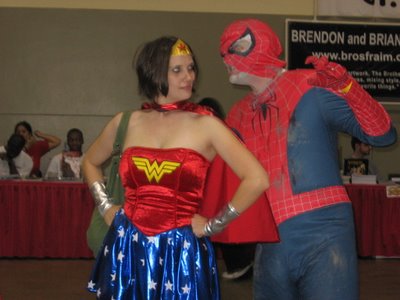 ~~~~~~~~~~~~~~~~~~~~~~~~~~~~~~~~
once again, i wanna get you all thinking--we're gonna have a spooky story contest here on the blog--with some prizes going out to your favorite scary, creepy, funny halloween stories in just a couple weeks! so get thinking--and writing!--and we'll make sure that this halloweeen season is full of frights!
here's a little something for inspiration...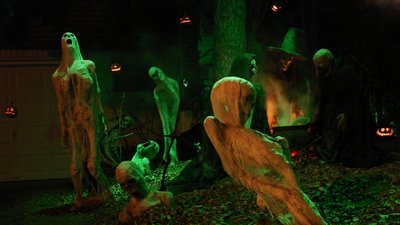 ~~~~~~~~~~~~~~~~~~~~~~~~~~~~~~~~
and thanks again to roger
for the great "five for friday"
and especially for also giving me
the
answers
to your
"five for friday"...
1) What baseball Hall of Famer, who played for the Baltimore Orioles, holds the record for playing in the most consecutive games?
Cal Ripken, Jr.
2) What famous author, who's best known for his horror stories, is buried in Baltimore and would have celebrated his 200th birthday next year?
Edgar Allan Poe
3) What Baltimore native, and Baltimore Comic-Con guest, made a name for himself drawing horror comics?
Bernie Wrightson
4) What John Waters movie, which was turned into a Broadway musical and then back into a movie, was set in Baltimore?
Hairspray
5) What professional sports team made its home in Baltimore from 1953-1983?
Baltimore Colts
smell ya later!
todd