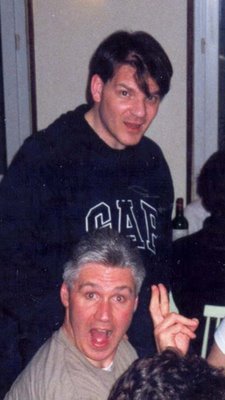 okay...
so, i've been missing mike more than usual this past week or so. not in a sad way; more of a "i wish you were really here to see this, rather than a voice--and a laugh--in my head." i guess i should say, he's been with me more. he's been with me as i race to get everything done that i've gotta get done before we leave for baltimore. he's been with me as i try, desperately, to get the very late tellos colossal 2 together and off to the printer. and he's especially been with both craig and i as we gush over the incredible artwork his brother's been sending us and yelling along with us, "shut UP, matt!--this stuff is fantastic!"
(i can't wait for you to see matt's story...)
probably it's the season; mike and i used to get really excited over the new fall season, new shows and returning shows alike. or maybe it's autumn, a time when i always feel a little more creative. but i honestly think that what triggered it this time was this picture i got a week or so ago...
one of the things that everyone always says about mike is how very generous he was. i like to think of myself as a generous guy, but mike certainly had me beat. he was generous with his time, with his attention, and with his talent. remembering when we were struggling up and comers ourselves, mike would gladly do variant or guest covers to try to help out other creators for free. when doing sketches at shows, mike would always make a point of pausing once in a while to look up at the (usually thrilled) person he was doing the sketch for and keep the conversation going. and while craig and i were raised, i think, to avoid and deflect panhandlers and homeless people with a "sorry--not right now...", mike always remembered his own hard times when money was tight and would always dig into his pocket and empty his change into their hands or maybe a dollar or two.
(sure, the three of us would walk away wondering what he or she was gonna "blow it on"--nail polish and video games, no doubt--but it was the thought that counts...)
now, craig and i never pass by someone who is obviously going through some hard times and help them out as best we can. mike is there with us too...
of course, more than any of that, when we were together, we were usually laughing. sometimes at the obviously, most times at some inside joke between the two of us. or the three of us. or sometimes at nothing at all.
so when i saw this picture, i thought of mike. we woulda laughed and laughed and congratulated this guy and given him five bucks each for his creativity.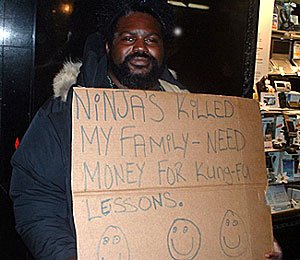 ten if it was true.
~~~~~~~~~~~~~~~~~~~~~~~~~~~~~~~
not to belabor the point, but today IS wednesday, september 24th, and you'd BETTER get down to your local comic shop and pick up thew all-new, all-different PERHAPANAUTS 4, 'cause, baby--you don't wanna miss that!!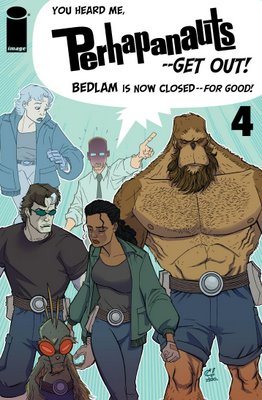 ~~~~~~~~~~~~~~~~~~~~~~~~~~~~~~~
i'll be putting the word out officially sometime next week, but i wanted to remind you all that, with halloween swiftly approaching, i'm sending out the call for your stories of ghosts and ghouls and halloweens past, of creepy creatures and strange occurrences! we'll have a contest and vote on the best or creepiest for a prize to be announced later!
so start thinking--it's gonna be fun!
gotta go and pack!
smell ya later!
todd