okay...
i realized a short while ago that i use the metaphors "i'm juggling a lot of things right now..." or "i'm trying to keep all the plates spinning..." a lot. i apologize. as a writer, i should have trained myself past using the same descriptive(s) long ago. the last thing any writer wants to be is repetitious.
but that is SO what it feels like.
aside from the cool spider-man work i've been fortunate enough to get lately--can't wait 'til november when it actually starts coming out--i've also been recruited to work on a very high-profile video game (of which i cannot speak at this time...but when i can, you will be the first to know). and all of that is the super-cool stuff that pays the bills.
but what really gets me excited is The PERHAPANAUTS--and that's where the plate spinning starts.
craig is, of course, hard at work on issue 5
(both of us are pretty excited about this one as it's the end of our first image arc and...well, we really like the story...!)
. but i just stopped the other day to see how many
other
perhapanauts i have in the works and...it's just crazy...
1. jason armstrong is just finishing up a spooky tale for our halloween issue called "ghosts of hallowe'en's past."
2. as is jamar nicholas with "choopie's halloween."
3. and scott weinstein and leanne hannah are working on a molly story that will be in there too (though scott wrote that, so that takes some off me...thanks, you guys!)
4. matt wieringo and christian leaf are working on a 6-page story featuring choopie and karl (they don't know it's a two-parter yet. shhhh...)
5. rich woodall is working on a tale that takes the team to the bavarian alps.
6. and jason copland is hard at work on a case file called "evaluation," featuring dr.trish sheehan, joann defile, and big.
7. we've also got flip covers coming in from jason armstrong, australian newcomer, matt pott, and an extra special halloween cover from comics legend...mike ploog!! (and wait 'til you see THAT!!!)
so, yeah, that a lot of plates.
and they're still spinning.
so i guess i'm doing okay.
~~~~~~~~~~~~~~~~~~~~~~~~~~~~~~~~
for a sneak preview of what matt and christian are doing, check out their blogs at
http://mafus.blogspot.com/
and
http://inkblatt.blogspot.com/
respectively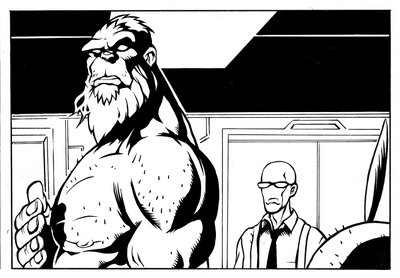 ~~~~~~~~~~~~~~~~~~~~~~~~~~~~~~~~
over on his blog,
kibbles and bitch
, dominick has posted an almost embarrassingly favorable review of the first two perhapanauts trades, inspired by his enthusiasm for the new image series! thanks so much for the kind words--you're makin' us blush...!
http://dogbizkit.blogspot.com/search?updated-max=2008-08-31T16%3A15%3A00-04%3A00
smell ya later!
todd
~~~~~~~~~~~~~~~~~~~~~~~~~~~~~~~~