okay...
well, the big news is that tellos no.2 is now available for your itouch and iphones and if you picked up issue one, you saw how awesomely cool they've made the whole thing look!i got to see the debut on craig's iphone and i'm hoping that this will at least make us enough money for me to go out and buy one of my own!
(matt needs one too!)
check out the ad and the cool little preview that steve horton and the gang at smashout put together for us! and then go get it!
it's only a buck!
http://itunes.apple.com/WebObjects/MZStore.woa/wa/viewSoftware?id=321076458&mt=8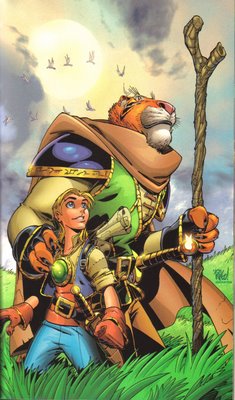 ~~~~~~~~~~~~~~~~~~~~~~~~~~~~~~~~
i don't talk a lot about tellos here 'cause it still makes me sad. and it probably always will. at conventions, i talk with people about it a lot, many saying how much they enjoyed the series, most offering condolences, and some starting to realize that they don't have to be sad about it anymore and remembering the fun and the joy they got out of it. at charlotte last month, i had a fan actually start to swashbuckle in front of me, his eyes lit up as he reenacted hawk and rikk's initial chase scene in tellos #4. i love that! mike and i always loved to hear that readers had actually gotten caught up in the story and carried away with it!
of course, invariably, someone always hits me--and matt...and craig...and sometimes a combination of us--with a comment or offer of sympathy that catches you off guard and brings a tear--but that's good too. it really is.
i have a bunch of the tellos books here that i take to shows, but i got an email from someone the other day suggesting that i make them available here in the perhapanauts store and as soon as we can get a few minutes from kieran and his busy schedule that's exactly what we'll do. for now though, should anyone be interested, drop me a note at
todd@perhapanauts.com
i have copies of both the softcover trade edition and the oversized, hardcover TELLOS COLOSSAL. what a way to see that beautiful ringo artwork and those gorgeous paul mounts colors!!
and i do have a few copies left of the signed and numbered left as well.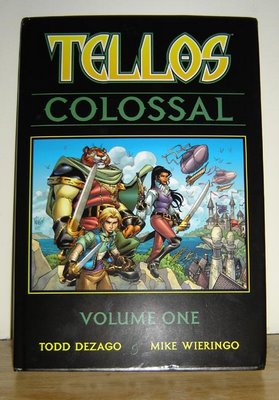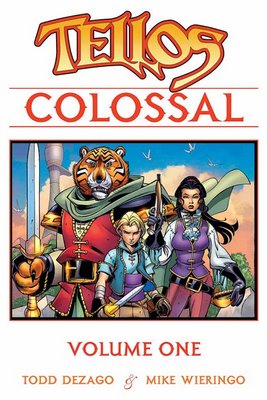 for those of you who have asked me about the second collection, i take full responsibility for the delay. the book--TELLOS COLOSSAL Vol 2--was to collect the various graphic novels and one-shots i did following mike's and my original run. stories i did with artists like howard porter, carlo barberi, dave tata, kelly yates, thor badendyck...and, oh yeah, this guy named craig rousseau. the book was due out in stores last september and, well, it just never made it. truth is, it was just too difficult for me to even think about tellos at the time i needed to be digging into it and putting it all together. i got past that earlier this year, but now we--alan hui at image and i--are playing indiana jones trying to track down the missing files on a couple of the later stories. we're hoping to have it done and out by the end of the year--but i'll keep you updated...
and, yes, there are plans for further tellos projects. matt and suzanne have being doing such great work with the ringo scholarship fund and we're putting together a mike wieringo tellos tribute book featuring an amazing array of artists due out sometime next year. i am currently working on a script for the next tellos story--an original graphic novel--that will be a sort of jam project with even more cool artists providing the art! it'll be the story that mike and i were starting to work on a few years ago and the middle of the three part epic we were planning for. and matt and i have been talking about being more aggressive in seeking out an agent to maybe someday get the story on the big--or little--screen.
'cause we know that mike woulda dug that.
~~~~~~~~~~~~~~~~~~~~~~~~~~~~~~~~
and wednesday i'll be here to hype all over the screaming tiki con that craig and i will be attending this coming weekend! if you're in the cleveland area--or, heck, anywhere in ohio, new york, pennsylvania--wherever!--and have nothing to do, sstop by and see us--it's shaping up to be a big show!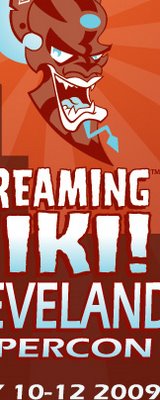 "five for friday"
summer fun!
1. what was the nickname of the mechanical shark used in jaws?
bruce
2. who played john cusak's love interest in one crazy summer?
demi moore
3. who sang the 1969 hit "hot fun in the summertime?"
sly and the family stone
4. on the beach boys' 1974 greatest hits compilation album, "endless summer," how many songs actually have the word surf in the title?
3; surfin' safari, surfer girl, surfin' usa
5. frisbees were originally used as what...?
they got it right in back to the future III, the first frisbees were actually pie tins from the frisbie pie company
have a good monday!
smell ya later!
todd