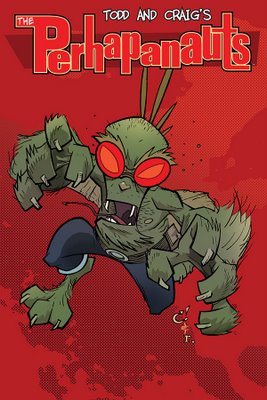 CHUPACABRA
okay...
for those of you counting, this is post no. 597.
though i haven't been doing the "five for friday" since the inception of this blog--i started sometime after the one year anniversary--i have been doing it for awhile. and it certainly seems like people like it since i get a flurry of emails about it any time i should happen to skip a week. so. let's say i've been doing the perhapa-blog for the past three and a half years, the "five for friday" for the past two and a half. 52 weeks in a year, times two and a half, that's 130 trivia fridays, five questions each...totaling 650 questions. a week or two off here or there, let's call it 600.
i'm being conservative.
but still...that's a lot of questions.
most of 'em straight outta my tiny little brain.
so, i'm taking this week off.
but i don't want to miss out on trivia...so here's the deal.
i'm asking you--yes, YOU. don't turn around, i'm looking right at you--to come up with a "five for friday" of your own.
for me.
here's the challenge. i love trivia and will do my best to answer all of the trivia questions sent my way--without relying on google or any outside assistance in any form, of course--and let's see how i do. you in?
the only rule here is that it should be what is considered GENERAL KNOWLEDGE trivia--stuff you might hear on cash cab or jeopardy. anything that becomes too specific is known in trivia circles as
minutia
--these are questions that go beyond trivial and become, well, TOO trivial. for example; my pals, roger ash and kc carlson, are HUGE music fans and each of them contain a warehouse and a half full of knowledge of rock and roll from the 60s, 70s, 80s, and 90s in their respective noggins and have, in the past, thrown some questions at me that just made my head spin. and not in a good way.
that's minutia.
so send in your five (or ten or fifteen...) questions in to me--at todd@perhapanauts.com --by thursday and i'll post them friday (along with my answers and/or guesses later on in the day). if any of them seem to me to be a little too specific, i'll call for a ruling and allow all of you to determine if it really is minutia or if i'm just being a whiney baby.
so send 'em in ( again, that's at todd@perhapanauts.com ) and let's see if my brain is good for anything besides mopping up big spills.
~~~~~~~~~~~~~~~~~~~~~~~~~~~~~
and here are
the answers to
last week's
"five for friday"
you name it...
1. what is beast boy's real name?
gar logan
2. what was john wayne's real name?
marion morrison
3. what was the name of winona rider's character in alien 4: alien resurrection?
call
4. what actor played the character of dea agent, ray nicolette, in both jackie brown and out of sight?
michael keaton
5. and finally, like you haven't had enough of him these past two weeks, what was michael jackson's middle name?
joseph
i'm out!
smell ya later!
todd