okay...
and, finally, here it all is with words.
as with most action sequences, there is usually not a lot of dialogue involved (unless you're quentin tarantino, in which case , that's where you include all of the
most important
dialogue). action sequences require lots of bursts of banter, cut offs, censored expletives, and HEAVY SOUND EFFECTS!!! SQUIRCH!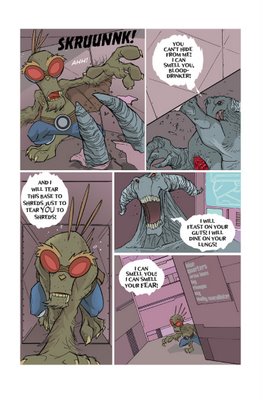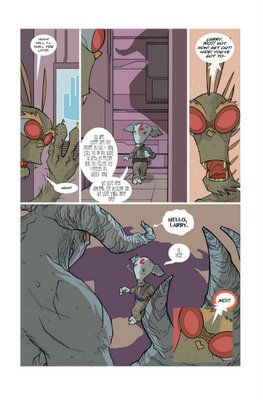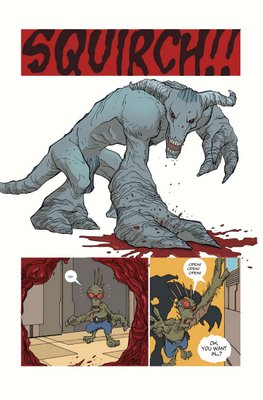 and that's it! that's how we do it! if you have any questions about any part of the process or anything, just ask! we're here!
~~~~~~~~~~~~~~~~~~~~~~~~~~~~~~~
and now, from lovely
cape hatteras, north carolina,
your "five for friday"...
movie taglines
i'll tell you this--they're all from
the past 2 years...
1. "this summer; heroes aren't born, they're built."
2. "would you put your eggs...in this basket?"
3. "if you want to live, you will obey."
4. "in space, no one can hear you clean."
5. "many saw evil. they dared to stop it."
have a great weekend!
smell ya later!
todd
--- Note ---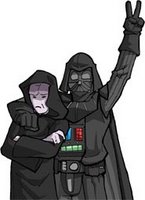 Hey all, this is Rod Hannah, making the above post on behalf of Todd who is chillin' at the beach. He called me out of the blue this morning with internet problems and no way of making today's blog post happen. After trying everyone in the known universe for help he then turned to me! So there ya go. What Todd doesn't realize is that I'm going to blatantly pimp
Blue Milk Special
the Star Wars webcomic that Leanne and myself work on. We update it every Monday, Wednesday and Friday, so check it out quick before Todd gets back and deletes this!
BlueMilkSpecial.com