okay...
NOW IT CAN BE TOLD!!
one of the secret projects i've been working on these past few months is a 60th anniversary revival/re-imagining of everybody's favorite friendly ghost--CASPER!! casper turns 60 this october and the fine folks at ardden entertainment were kind enough to ask me if i wanted to be involved! and i DID!!
i was a huge casper fan as a kid, watching him on tv and later reading his comics--usually at the barber shop before i got my haircut. what a great character--poor casper! all he ever wanted to do was make some friends! and all he ever got were people running into walls or losing all their color after uttering--and stuttering--those two tell-tale words, "a g-g-g-ghost!"
i jumped at the chance to write some casper!
but really, casper was only half of the reason i jumped! the other half was to work with my friend and former spider-man collaborator, j.m. dematteis! i was a big fan of j.m.s long before i got into comics and, actually, it was his leaving x-factor that landed me my first official gig on the book! soon after, he and howard mackie lured me over to the spider-offices and i was home! the three of us--along with our other brother in the clone saga, tom defalco--weathered some pretty crazy (editorial) goings-on before we were finally able to put that mess to bed, but it made us close and it made us strong and, in my case, i'm hoping it made me a better writer.
anyway, i love marc! (that's what i call him--you have to call him j.m....or mr. dematteis...or mr. moonshadow, he likes that! : ) when i saw him last year at the new york comicon, we talked of how much we would like to work together again and that we'd keep in touch and see if we could find something that would be fun! a few months later, marc called me in his role as floating editor for ardden entertainment, the company responsible for reprinting and relaunching flash gordon, among other things, and asked me if i was interested...
"in what?" i asked.
"i can't tell you." he said.
"i'm in." i replied.
and it was casper.
the three issues miniseries features casper, of course, along with wendy and hot stuff, with appearances by spooky, the ghostly trio, and some other characters from casper's supporting cast! the tale revolves around spooky town, the ghost world where the ghosts live, and how it relates to--and is affected by--the real world nearby! a re-imagining, this also has casper, wendy, and hot stuff meeting for the first time with the characters having been redesigned for the new millennium. being all old school, i wasn't sure about this at first, but just WAIT 'til you see what artist pedro delgado is doing with these characters and this story! every single page has been a joy to see--it's so exciting when another jpg shows up in my email! keep your eye on pedro--this guy's gonna be gone!
so make sure you pick up casper in october--it's his birthday!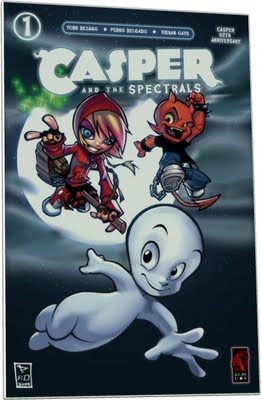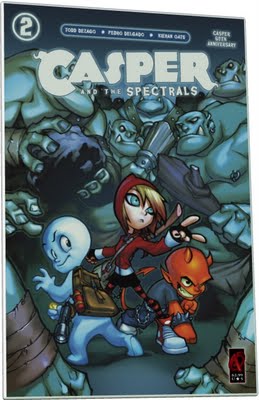 ~~~~~~~~~~~~~~~~~~~~~~~~~~~~~~~~
what a wonderfully, summer-y, childhood theme.
look what this guy did with just a balloon.



what are you doing, bill watterson? i miss you so much.
~~~~~~~~~~~~~~~~~~~~~~~~~~~~~~~~
i'm listening to--wonderful by gary go (itunes free download of the week--AWESOME!), spoon, bruce springsteen, john cougar, plain white t's, kate nash...and various episodes of coast-to-coast am with george noory
i'm watching--battlestar galactica season 3, drain the ocean, ufc 100, wipeout, and, yes, america's got talent...
smell ya later~!
todd