okay...
so as i said on friday, i'm not here.
i am speaking to you from the past--last thursday morning to be exact--and hoping that i can set these up easily for craig to simply cut and paste and post
(since blogger keys in the time and date that you

started

composing the post rather than the day you actually post it...)
so, we'll see how that goes...
if you are reading this now, it all went well.
anyway, i am either relaxing on the beach or playing in the waves with my niece and nephew or maybe even writing up the last few pages of the beats to what will in all likelihood be perhapanauts 11. that's the plan; to have the whole next story arc outlined by the end of this week. and, man, it is gonna be crazy...!
anyway, for a treat while i'm away, i thought i'd post the progression of a perhapanauts page or two, like i promised a few months back when we did it with a few of sanford green's marvel adventures spider-man pages.
as i said then, these days marvel likes everything to be done full-script. that's plot and narrative and dialogue all in one complete package. and i can certainly understand the positives of that--it cuts down on traffic for the editor and a certain amount of anxiety if the deadline is looming. me, though, i love the old marvel style, where the writer supplies a plot and the artist goes from that, and then the writer scripts the dialogue with the art at hand. it's a much more creative, collaborative, and liberating style and it makes, i think, for a better, more engaging story.
so here's my plot for page 12-14 of perhapanauts no. 5. maybe not your favorite part of the issue, but certainly an exciting one. and, hopefully, a powerful one.
i've posted craig's inked pages below each one so that you can see how he (masterfully) made them happen and how a truly talented storyteller can even make my
far-too-much-detail
-ed script work.
PAGE TWELVE

Panel 1
Suddenly startled, terrified, CHOOPIE jumps back as the CHIMAERA'S CLAW (now even longer and sharper and...
clawier
!) smashes up through the grill, destroying it and tearing into the wall of the ducting as well--just ripping the wall and duct open!
Panel 2
From out in the hallway as the raging, railing CHIMAERA desperately buries his arm into the open duct, reaching blindly in to dig and scrape CHOOPIE out! Above him, across the hall, we can see the same schematic on a monitor screen...
Panel 3
On CHOOPIE, leap-frogging toward us
(i really like the image of CHOOPIE resorting to running like an animal when he's really scared--or gotta move...! yes?)
, a worried look on his face, as the CHIMAERA'S arm continues to flail and search back at the blow out!
Panel 4
On the CHIMAERA, insane with pain and rage, eyes burning with a new madness, and we can see the monitor screen showing CHOOPIE'S location on the grid--
Panel 5
Cut to; a short time later, as CHOOPIE furtively rounds the curved corner of the abandoned, shadowy hallway, looking cautiously to make sure the coast is clear. The sign on the wall reads; "Blue Team Quarters." Room for CHOOPIE thoughts...
Though we've already seen this before, here's how i'm seeing the layout of this section of hallway. On one end we have the hallway back to the rest of the facility. Then the six doors to the HAPS individual apartments and their "common room"/living room. And the hallway ends with three P-Tubes against the wall at the dead end.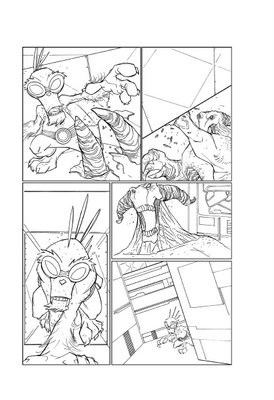 PAGE THIRTEEN

Panel 1
On CHOOPIE, as he places his hand on a scan-pad on the wall next to the door, about to enter as a familiar voice greets him from off--
Panel 2
From behind CHOOPIE as he looks down the hall to see the smiling LARRY back at the curve we just saw CHOOPIE at--LARRY is purposefully--and proudly--walking toward CHOOPIE, telling him that he
knows
that he wasn't supposed to return until he was told, but he wanted CHOOPIE to know that they have the problem under control and even now Grem Forces are--Behind him we can see the HUGE shadow of the CHIMAERA coming around the corner, darkening the hallway even more!
Panel 3
On CHOOPIE, almost hysterical, eyes HUGE as he yells at LARRY to go, get away, now is not the time, he's gotta–
Panel 4
Big panel; From behind and above the very small, startled LARRY, his final panel, his mouth frozen in a tiny "o", (
he isn't scared, more mildly surprised)
as he turns to look up at the giant shadow that's suddenly appeared behind him--from over the top of the CHIMAERA, his massive paw/claw raised to pound/swat/pulverize--
Panel 5
On CHOOPIE, his mouth hanging open in disbelief, his eyes wide at the horror he is seeing (can we see the CHIMAERA'S hand coming down on the GREMLIN in CHOOPIE'S goggles...?)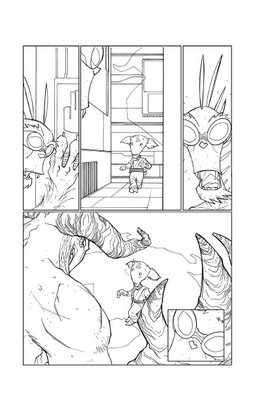 PAGE FOURTEEN

Panel 1
SFX panel; a big grisly "SQUIRCH!"
Panel 2
Big panel; as the sly, sneering CHIMAERA gruesomely scrapes/slides/smears what looks like a gallon-sized jar of strawberry jam across the spot of floor where LARRY was--a panel we will remember forever--his hand dripping a few little flecks of it, the CHIMAERA staggering a bit as that big hole in it's chest isn't helping--
Panel 3
And here's the shot through the circular hole, we can see what looks like gross internal organs and bone inside almost as if a foot wide glass tube were inserted through so that you could see all the inner workings. Beyond that and down the hallway a bit, we can see a slightly in shock CHOOPIE, still looking down at the smear of LARRY. Now CHOOPIE is standing right before BIG'S door--
Panel 4
From behind CHOOPIE as he now desperately, quickly applies his hand to BIG'S door, having jumped up to and kinda hanging from BIG'S higher scan-pad, watching as the CHIMAERA charges at him--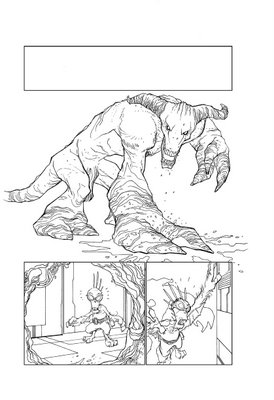 notice how craig paced the action out, how he built suspense with his body language and camera angles. choopie looks scared, larry looks small, the chimaera looks confidently evil. craig moves your eye from panel to panel effortlessly, smooth, there's no confusion as to where you're s'posed to go next. it's a roller coaster ride...!
more on wednesday!
here are the
answers to the
"five for friday"
1. as america celebrated the bi-centenniel and scooby-doo was still a pretty hot ticket, what patriotic character did hanna barbera cook up as a ghost who chased ghosts?
the funky phantom
2. who was the little ant with the super-strength?
atom ant
3. who were the banana splits' arch enemies?
the sour grapes bunch
4. quick draw mcgraw's alter ego?
el kabong
5. i think i did this once before, but what the hell--it's one of my favorites--
sidekicks
a. quick draw mcgraw's sidekick
babalooie
b. peter potomus' sidekick
so-so the monkey
c. secret squirrel's sidekick
morocco mole
d. yogi bear's sidekick
boo boo
e. the cartoon canine version of the three musketeers
yipee, yapee, and yahooie!
hope you're having a nice day!
smell ya later!
todd