okay...
so after a week of the ocean and sun and fun and family and great food and lots of drinking and no work (well, maybe a little work--i'm
always
thinking about
something
...) i'm back. it was a fantastic trip, but in the end i was eager to get back home to sharon. and jake. and kayla.
and to get back to work. i actually did do some writing while i was there, but mostly after a couple cocktails so i'll have to see if any of it was actually legible...
THANK YOU, ROD HANNAH!!
before i go any further though, i gotta send a big THANK YOU out to my pal, rod hannah, for being there and making the blog happen on friday. and while his note at the end of the post might make it seem like he was
the last person i'd call
or my
last resort
, believe me when i say that that is the farthest from the truth. yes, i called rod 'cause i thought he'd be home and because he's usually pretty savvy about these things, but mostly 'cause he's a friend. and i wanted him to plug his and leanne's
blue milk special
webcomic/website
www.bluemilkspecial.com
because i had been writing leanne's upcoming perhapanauts story and she/they were on my mind a lot while i was writing it.
also, 'cause i trust rod and, having full access to the perhapa-blog, he can now step in and mess things up anytime he wants to! i wouldn't hand that power over to just anyone...
anyway, a huge, huge
THANKS
, rod! i really appreciate it!
~~~~~~~~~~~~~~~~~~~~~~~~~~~~~~~~~
oh, just so you know...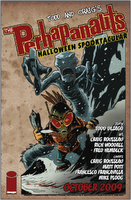 THIS is the ad you'll want to be looking for in the next
previews
to remind your local comic shop to order a bunch and get some people on board with this cool book. the halloween special is a great jumping on point and, i gptta say, it looks great!
~~~~~~~~~~~~~~~~~~~~~~~~~~~~~~~~~
after my post a few weeks ago about how i've been hooked on
hooked
!--national geographic's awesome show where they go out to catch the world's biggest and craziest fish, i got a chance to see a surf fisherman pull in three separate sting rays on the beach at diamond shoales. it was amazing to watch--they are some tough fish to bring in--and quite a crowd gathered each time to watch him catch and release them. i got a few pictures of him wrestling with the smaller one, but they're on my nieces' camera and i'll post them in a day or so...
~~~~~~~~~~~~~~~~~~~~~~~~~~~~~~~~~
got home late saturday night to find this great choopie pic from perhapa-fan, james duncan, and thought i'd share.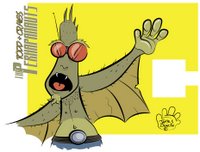 though obviously a fan of the choop--who definitely gives us a few of those "choopie moments" in the aforementioned halloween spooktacular--james was also keen to find out a little bit more about our mysterious mg, noting that his shadowy past has james intrigued...
i told him to make sure not to miss our next miniseries...where a lot of mg's secrets will be revealed...
you can see james' blog and more of his artwork over at
http://www.kaesye.com/?p=953
~~~~~~~~~~~~~~~~~~~~~~~~~~~~~~
WEC--WEC--WEC--WEC--WEC--WEC--
did anybody see that torres-bowles fight last night...?
i jumped out of my chair...!
~~~~~~~~~~~~~~~~~~~~~~~~~~~~~~~~~
i will admit that these were a bit difficult--
mostly 'cause they just don't write that
many great movie blurbs anymore.
maybe all the good ones have been taken.
i don't know.
anyway, here are the
answers to your
"five for friday"
1. "this summer; heroes aren't born, they're built."
iron man
2. "would you put your eggs...in this basket?"
baby mama
3. "if you want to live, you will obey."
eagle eye
4. "in space, no one can hear you clean."
wall~e
5. "many saw evil. they dared to stop it."
valkyrie
smell ya later~!
todd