okay...
i've been getting ALL KINDS of awesome submissions for the PERHAPANAUTS SCARY HALLOWEEN CONTEST and i just can't wait for you to see these! i've got some great stuff from brian mulcahy, jared ather, warren newsome--and the entries just keep rolling in! you got one?! get it in here!
our first entry is from our pal, nic carcieri--aka portal comics on the boards--with a spooky tale filled with that great new england flavor! ladies and gentlemen, i give you, nic carcieri's
PUKWUDGIE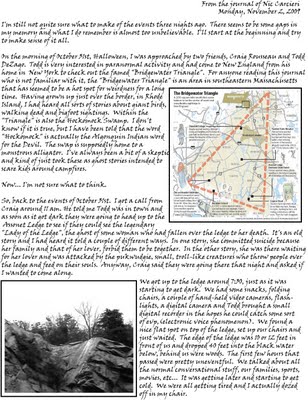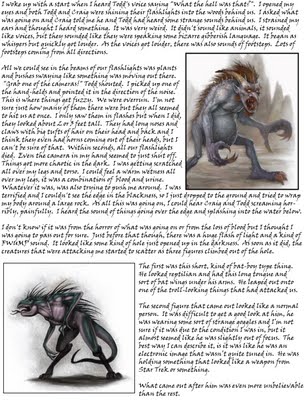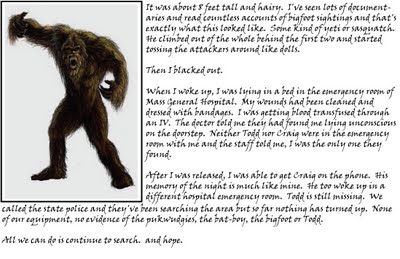 ~~~~~~~~~~~~~~~~~~~~~~~~~~~~~~~~~
as noted here last week, craig and i are getting all geared up for marc nathan's BALTIMORE COMICCON this coming weekend so if you're gonna be in the baltimore area, come on down and say hey--we'd love to see ya!
i had also said that i would be hosting a panel called "SPOTLIGHT ON NICK CARDY" put together by our pal, roger ash. sadly, though, nick took a little spill outside his side door the other day and, while he didn't break or sprain anything, he is quite sore. and for a guy going on either 89 or 90 (we really don't know which...) we thought it would be best if he stayed home and got some rest and give his muscles time to heal properly.
(it's too bad 'cause he and i had worked up a little vaudeville routine with a soft shoe dance and everything...well, it'll be even better next year...!)

~~~~~~~~~~~~~~~~~~~~~~~~~~~~~~~~~
the answers to your
"five for friday"
1. name all five "apes" movies in order.
planet of the apes (1968)
beneath the planet of the apes (1970)
escape from the planet of the apes (1971)
conquest of the planet of the apes (1972)
battle for the planet of the apes (1973)
2. what was the name of the orangutan in "every which way but loose"?
clyde
3. what was the name of the ape in dc's "angel and the ape"?
sam simeon
4. what legendary comics artist created "monkeyman and o'brien"?
art adams
5. what was the name of the 1980's matthew brodrick film that garnered so much trouble from the humane society over the treatment of the monkeys?
project x
* extra credit~~ name the monkees!
mickey dolenz, davy jones, mike nesmith, peter tork
more on wednesday!
smell ya later~!
todd